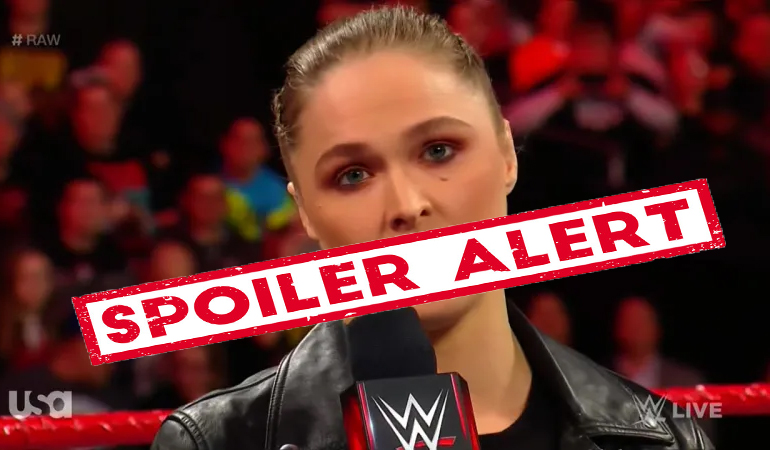 Riverside, CA – Current Raw Women's Champion Ronda Rousey has embraced her role as a spoiler following a public faux pas on Twitter.
Rousey recently upset fans by claiming that Becky Lynch's recent mugshot photo was fake and using transphobic insults. Many fans and industry insiders felt that Rousey's comments ruined the current feud and badly exposed the business. Seeing an opportunity, Rousey is now fully leaning in to calling things fake and ruining the suspension of disbelief.
During an assembly at the John F. Kennedy Elementary school, Rousey, who was there to promote WWE's Be A Star program, informed the children that Santa Claus was not real. Reveling in the children's gasps and tears, Rousey also revealed that the dish ran away with the spoon. Before dropping the microphone, she also revealed that Snape kills Dumbledore.
After knocking down multiple sandcastles at the beach, Rousey sabotaged all the shopping cart wheels at a local Kroger. She celebrated her stress-inducing acts by going to a Chipolte where she leaned over the glass partition and sneezed.
Not satisfied with upsetting just locals, Rousey took to Twitter to announce the endings to Game Of Thrones, Avengers: Endgame, and Detective Pikachu. Fans begged Rousey to stop, only fueling her power-drunk rampage.
Just when all seemed hopeless, Becky Lynch logged on to Twitter. Knowing that the people were in their darkest hour, Lynch tweeted at Rousey "Tell us the ending to your match with Amanda Nunes."
Rousey has not tweeted or been seen in public since.