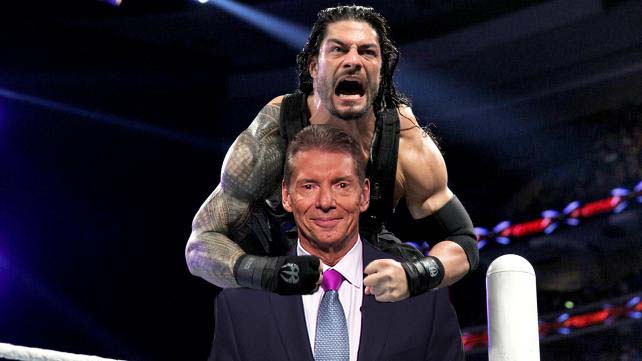 Dallas, TX – With just mere weeks away until Wrestlemania 32, preparation has already begun for the extravagant entrance for Roman Reigns. WWE CEO Vince McMahon has personally been planning the entrance for months and commenced a walk-through at AT&T Stadium.
"Alright, I want the F-15's to fly over head right before Roman's music hits," said Vince McMahon, giving direction to several workers. "I want the fireworks timed to every guitar squeal. Did you get those sketches I drew you?"
"Yes, Mr. McMahon. The cocktail napkin was very helpful," said one worker.
"Kevin, I want lots of shots of women swooning over Roman. Try to see if any are about to faint," said McMahon to television director Kevin Dunn. "Then focus in real tight on his beautiful, sculpted face. I want you to capture the determination in his eyes and the shimmer of his glacier water-soaked hair."
"You've got it, Vince," said Dunn from inside McMahon's shadow.
'Now it's a long way to walk through the massive Wrestlemania crowd, so I will be giving Roman a piggyback ride down to the ring. We don't want him to stub his toe or twist his ankle. We have to keep him healthy!"
The group surrounding McMahon stopped taking notes and gave him a look of concern.
"What, you don't think I can't do it? Here, look," said an incredulous McMahon while picking up Dunn.
"WEEEEEEEEEEEEEEEEEEEEE!" shouted Dunn, his legs kicking wildly as McMahon carried him down a flight of stairs. "I've dreamed of this day for so long! I've never felt so alive!"
"Told you I could do it!" said McMahon who then flung Dunn off his back, sending him down several flights of concrete stairs.
"Now, once I carry Roman down to the ring, he'll dismount, I'll give him a tender kiss on his cheek, whisper 'I love you' in his ear, and he'll climb in the ring. That's when I want the rose petals to fall from scoreboard and the choir to start singing."
"Best..Wrestlemania…ever!" croaked a badly injured Dunn.