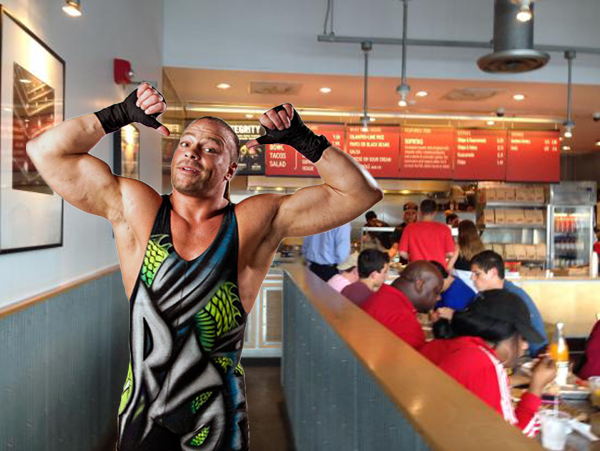 Boston, MA – In a shocking and unexpected move, former WWE star Rob Van Dam defended his WWE European Championship during Clash of Champions.
A proud Van Dam confidently strode out in front of the crowd, casually hitting his classic "R-V-D" pose! The crowd reaction was a mixture of surprise and confusion, but Van Dam took it in stride. As the crowd settled down, Van Dam took a microphone out of his singlet to address the people.
"I'll bet some of you are wondering what ol' RVD is doing here. I'm offering an open-challenge to anyone out there that thinks they can take my precious European Championship. I will completely smoke the competition," said a red-eyed Van Dam.
The European title was unified with the Intercontinental Championship when Van Dam defeated Jeff Hardy in 2002. It has rarely been mentioned on television since.
Van Dam became frustrated when his challenge went unanswered.
"Come on, dude," wheezed Van Dam. "I thought this was Clash of Champions! Well, I'm a champion, so come on! Nobody wants to take on Mr. Monday/Tuesday/Thursday/Friday Night? If no one has the guts to take me on, maybe you'll have to call me Mr. Champions. No, wait. Call me Mr. Clash. Wait, wait, I've got it. Call me Mr. Clashpions!" giggled Van Dam.
The crowd grew silent as a portly middle-aged man approached Van Dam. A nametag identified him as "Craig".
"Sir, I'm the manager here. If you don't place your order and pay, I'm going to have to ask you to leave.," said Craig.
"I'll take a veggie burrito bowl, extra guac, verde salsa, bro," said Van Dam. "Oh, and for you to tap out and declare me the winner."
Craig handed Van Dam the burrito and begrudgingly raised his hand.
"Yeeeeeeah! Mr. Clashpions has done it again!" yelled Van Dam as he triumphantly exited the Chipolte.