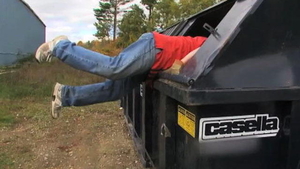 Charlotte, NC – WWE Hall of Famer Ric Flair has announced the hiring of Roy Haynes, commonly known as the "Cheapest Man In America", as his new financial advisor.
A multi-time champion in various wrestling companies, Flair has undergone various legal and financial troubles in recent years, putting a strain on his bottom line.
"Between the divorces, the silk robes, the solid-gold toilets, and the diamond-encrusted underwear, old Naitch's bank account was hurting," said Flair. "I reached out to some of my old friends for help and they pointed me to Roy Haynes.
Haynes, who runs the nonprofit animal shelter Save Our Strays, has appeared on such prestigious talk shows as The Dr. Phil Show and The Danny Bonaduce Show plying his cheap trade.
"I've been helping a lot of wrestlers with their financial planning when they retire," said Haynes from inside a dumpster. "They're so used to the high life that they sometimes forget the simpler things. That's where I come in. Why bother going out to eat breakfast every morning when Dunkin Donuts just throws out the stale ones at night? Why buy bottles of ketchup when the restaurants just give away packets? Why buy that fancy quilted toilet paper when there's plenty of copies of the New York Post lying around?"
Other retired wrestlers have come out praising Haynes' cheap ways.
"Before meeting Roy, I used to have to buy paper towels," said WWE Hall of Famer Paul "Butcher" Vachon. "Now I just hang paper towels to dry when I use them. Roy has saved me thousands!"
"Discarded Big Mac containers are an indispensable source of lettuce, special sauce, and pickles," said Tony Atlas. "The Black Superman needs his pickles. Thanks to the Frugal Fanatic, I can get it all for free."
"Ric used to say, 'I've spent more money on spilled liquor than other wrestler's make in an entire year.' I thought of a great way to solve that problem," said Haynes.
"Naitch got a sippy cup! Wooo!" said an ecstatic Flair, proudly displaying his Buzz Lightyear drinking apparatus. "I've gone from jet flying and limo riding to dumpster diving and hitch hiking. And no more Space Mountain for Ric Flair. You can only ride the Tea Cups from now on! Wooo!"