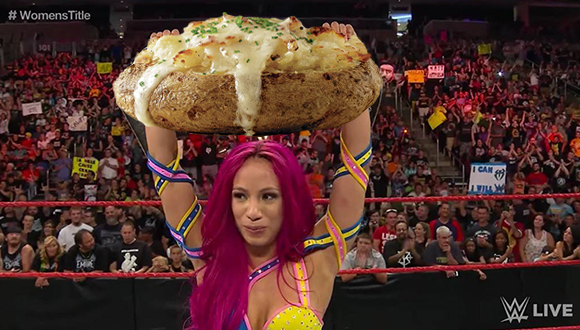 Austin, TX – After numerous Raw Women's Championship changes over the past few months, Raw commissioner Stephanie McMahon and Raw general manager Mick Foley unveiled a new tile belt: a literal hot potato.
McMahon addressed the stunned crowd saying "We've listened to you, the WWE Universe. Actually, I was busy playing Candy Crush on my phone, so I was only half paying attention, but you know what I mean. You wanted Divas or whatever we're calling them this week and you've got them!"
"That's right, Steph!" said Foley. "The epic see-saw battles between Charlotte Flair and Sasha Banks have led to a lot of title changes and what better way to show WWE's appreciation for there efforts than granting them a steaming hot new symbol of their achievements? I know the great people right here in Austin, Texas love their spuds!"
"Charlotte or Sasha or whoever is champion, come and get it!" said McMahon while ringing a dinner bell.
Both women came to the ring with pensive looks on their faces.
"Go ahead and pick it up. Let the fans know how much you like it!" said Foley.
Flair and Banks struggled slightly lifting the 40 pound potato. The scorching heat combined with the melting butter, cheese, and sour cream melting down the sides burned their hands as they struggled to maintain their smiles.
Several other women wrestlers entered the ring and declared their intentions for winning the WWE Raw Women's Hot Potato.
"Can I go back to NXT now?" asked Bayley.
"That's right, I'm still on the roster!" said Summer Rae proudly.
Alicia Fox let out a piercing scream, threw handfuls of chives at the crowd, and ran to the back.
Nia Jax fiercely stared at both Charlotte and Sasha. Suddenly, she shoved them both to the ground and picked up the Hot Potato.
"Nia hungry!" barked Jax. She then proceeded to shove her face into the still steaming potato and devour the starchy insides. When Foley and McMahon tried to take it away from her, Jax latched onto McMahon's leg and began biting her ankle before being restrained by security.
WWE officials are considering whether to give Jax a 30 day suspension or just letting her finish the potato while they microwave a new one.