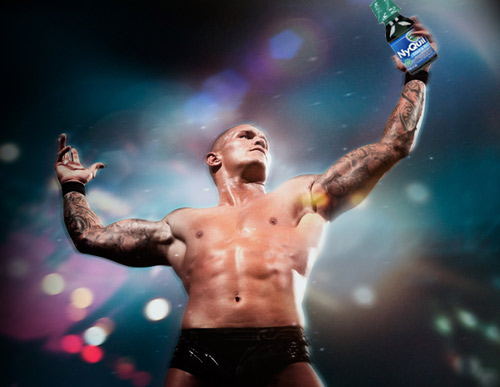 Stamford, CT – World Wrestling Entertainment and multinational consumer goods company Procter & Gamble are proud to announce a new deal between the two companies. Unlike previous joint business deals between the two companies, this latest partnership will see superstar Randy Orton sponsored by the over-the-counter medication NyQuil.
Orton, a former 6 time WWE Championship holder and star of the movie 12 Rounds: Reloaded, was a natural choice for NyQuil according to WWE Chief Michelle D. Wilson. "Like peanut butter and chocolate, Randy Orton and NyQuil just go together. When you really need to slow things down, Randy Orton is the cure for high-impact moves and too much excitement. From his slow walk to the ring to his many, many rest holds, Randy embodies what NyQuil is all about!"
Procter & Gamble Assistant Vice President of Marketing William Frank said, "I was watching an episode of Friday Night Smackdown with my son when I saw Randy Orton in a match. I was overcome with a relaxing calm that put my right to sleep. When I woke, his match was over and I felt completely invigorated. Kids seem to love him, despite his propensity for kicking people in the head when they are down and harassing divas. And Parents love NyQuil, a product that can help their children get the rest they need!" Both companies plan to capitalize on the sponsorship with a variety of products. "Besides having Randy in our commercials and a full-length straight-to-dvd movie, we've got a great pillow and blankie combo with his face on them."
The sponsorship will lead to a slight tweaking of Orton's on-air character. Once known as "The Viper", Orton will now be known as "The Nighttime, Sniffling, Sneezing, Coughing, Aching, Best-Sleep-You-Ever-Got-With-A-Cold Viper". His theme music by the band Rev Theory will be replaced by Brahms' "Lullaby". Also the "voices" in his head will be replaced by the soothing sounds of white noise and the ocean.
"We're really excited about this," said Triple H. "At Wrestlemania, we're going to pass out Big Gulps full of NyQuil to the entire audience before Orton's match. We want them in the right frame of mind to watch him. Hopefully we can beat the Guinness record for 'Most people asleep in an arena'."
Orton was asked to comment on his new sponsorship, but could only muster a drawn-out yawn before slowly making his way to the ring, despite not having a match for another hour.