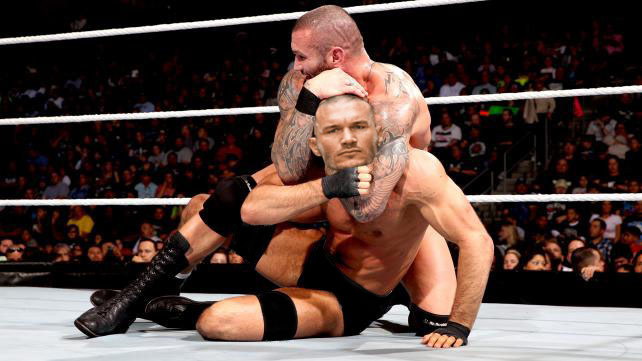 St. Louis, MO – An injured Randy Orton has discovered a new way to help speed up his recovery time and return to the ring sooner than expected.
Orton has been out of action ever since suffering a concussion at the hands of Brock Lesnar at Backlash. The road to recovery has been long and arduous for the Viper.
"I thought I tried everything," said Orton. "Physical therapy, meditation, acupuncture, alternative medicine, aroma therapy, homeopathic medicine, herbal teas, sleeping in a hyperbaric chamber,  consulting the mystical shamans in the far reaches of Tibet, drinking a whole bunch of expired YJ Stingers. Nothing was working."
"I began to lose hope," he continued slowly and methodically for no reason. "Thanks to the love of my family, I persevered. I knew I couldn't let my fan down. I looked deep within myself and realized that I had the solution all along!"
Orton then sat on the floor and proceeded to wrap his arm around his throat, giving himself a headlock.
"Like the doctors said, I needed to rest, and what better way to rest than with a patented Randy Orton headlock? Mmmm! This is like a day at the spa! It's how I put my kids to sleep too!" he said proudly.
Officials are hoping that Orton's headlock method can be applied to other wrestlers in need, including on Finn Balor's shoulder and Roman Reigns's personality.