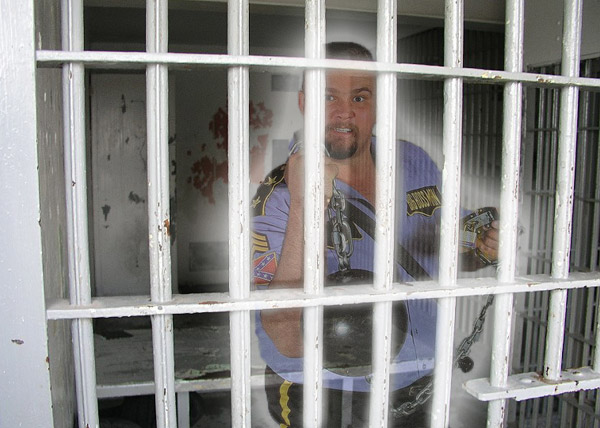 Since September of 2004, prisoners in the Cobb County, Georgia Jail have had a difficult time eating, sleeping & serving their hard time.
Though the guards disagree over why, the prisoners are quite sure as to the cause of their collective insomnia & other troubles: a spectre they have dubbed The Big Boss Man's Ghost.
"He still makes you walk the line," whispered inmate Tony Cabio to our WCNewz reporter on the scene.
"Ya' betta' read the signs," agreed convicted burglar Manuel Chavez, pointing to a green & red marker in the hallway instructing prisoners to line up, single-file.
Other inmates report hearing a "big stick" clanking along cell bars late at night, as well as a clanging of chains they believe to be attached to a bowling ball, long after lights-out.
Of all the convicts we spoke to, only mass murderer Mark Hudson said he is never bothered by The Big Boss Man's Ghost. He declined explanation, but prison officials tell us that he has a nightly ritual that involves kneeling – hands clasped in front of him – and praying.
The guards are unsure of the entirety of the prayer, but all agree it includes compliments regarding The Big Boss Man's mother, her cooking abilities, her figure, her intelligence & her parenting abilities as well as a request to smite a weasel.