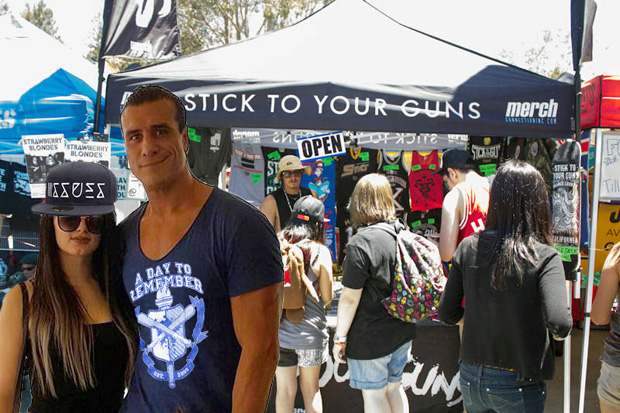 Holmdel, NJ – WWE Supserstars Paige and Alberto Del Rio spent their entire Sunday at Warped Tour, the annual touring punk rock music festival.
The real-life couple have been searching for things to do together outside of the wrestling world for some time and when the opportunity to see many of her favorite bands, Paige purchased tickets.
Del Rio initially resisted, sighting the fact that he had absolutely no idea who any of the bands were and would probably be mistaken for her father.
The duo arrived at at the PNC Bank Arts Center in Holmdel, New Jersey at 10:30am and stood with a large crowd of teenagers waiting to get in. Paige was swarmed for autographs while Del Rio quietly stood behind her. Del Rio's anger began to rise, until a group of 15 year old boys approached him.
"Okay boys, one autograph and picture each," smiled Del Rio.
"What?" said one of the boys. "No, dude. Can you buy us beer?"
Del Rio growled at the group and told Paige he wanted to leave.
Paige, ignoring Del Rio's displeasure at being dragged to the event, pulled him by the arm as the gates opened. Del Rio stood to the side and watched in bewilderment as groups of young people with hair in all the colors of the rainbow sang along to their favorite bands.
"What is with these bands?" Del Rio asked himself while looking at the lineup. "'Oceans Ate Alaska'? 'Bad Seed Rising'? 'Chunk! No, Captain Chunk!'? What does that even mean?"
Del Rio did find enjoyment watching Paige mosh along to bands like Cruel Hand and Everytime I Die, delivering several devastating Paige-Turners and Ram-Paiges to unsuspecting festival goers. "Si! Si! Si!" he chanted as people were helped by EMTs.
The afternoon took a turn for the worse when Sum 41 hit the stage. Paige pushed her way to the front, leaving Del Rio by himself. A festival organizer approached Del Rio, saying "Sir, could you please come with me?
"What are you talking about?" asked a confused Del Rio.
"We noticed that you are an unaccompanied adult. Warped Tour has a special area for parents who need to wait for their children." Four large security guards then grabbed Del Rio.
"Get you hands off me!" shouted Del Rio. "She is not my daughter, pendejo! You can't do this to me! I am a former WWE champion!"
"Yeah, World Heavyweight Champion," said one of the guards sarcastically.
Del Rio was then dragged to the special tent marked "Reverse Daycare". He sat down in a lawn chair, surrounded by parents reading TIME magazine and drinking Mike's Hard Lemonade.
Del Rio opened his phone and launched the Pokemon Go app which promptly froze, forcing him to restart his phone.
"Lousy perros," Del Rio muttered to himself. "This never would have happened at Ozzfest."