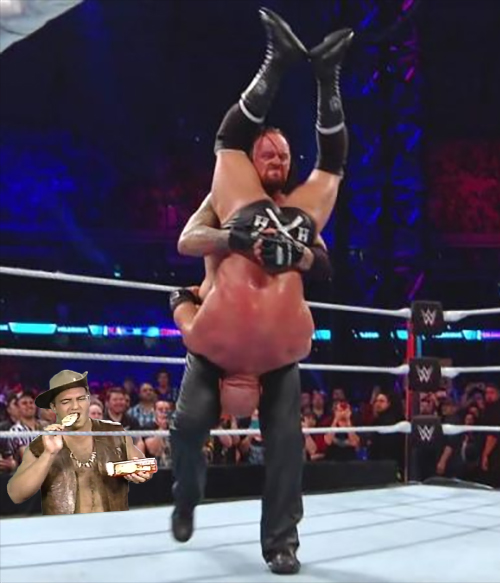 Melbourne, Australia – The wrestling world was stunned this weekend as former WWF wrestling legend Outback Jack made his triumphant return to the company.
The special event took, which took place in Melbourne, featured a list of current and future WWE Hall of Famers. While local fans were pleased to see their fellow Australians Buddy Murphy and The Iiconics come out on top, the loudest reaction of the night occurred when Jack made his way to the ring.
Undertaker had been battling with Triple H for some time when the familiar jangle of Outback Jack's theme song played over the loudspeakers. He sauntered to the ring, taking time to shave the stubble off his face with a large knife.
Bewildered, Undertaker and Triple H tried to continue their match. As Undertaker lifted his opponent into a Tombstone, Jack unleashed his devastating finishing maneuver, the Boomerang clothesline. As a result of both men being hit, the match was ruled a double-disqualification. The hometown crowd did not seem to mind despite the lack of a conclusive finish.
"I am so happy to be returning to the doub-ya doub-ya E," said Jack, wiping away a tear. "I've been in the bush for too long, fighting dingoes and playing "Knifey-Spoony". I wasn't sure what to expect, but these fans are amazing. I tip my Foster's to them. It's enough to make you chunder. Finally, the Jack is ready to attack!"
Due to the disqualification, a three-way match is scheduled between Undertaker, Triple H, and Outback Jack for later next year.
"WWE Super Show-Down is a special event that called for a special return," said Vince McMahon to a group of reporters. "Naturally, we wanted to do something for the home country. We pulled out all the stops to make it happen, but it was worth it to bring the people of Australian the biggest Australian wrestler of all time!"
"What about Bill Dundee or The Fabulous Kangaroos?" asked one reporter. "They're legends here in Australia."
"Done-Dee?" asked McMahon, his brow furrowed in thought. "Nope, never heard of him. If he's as good as you say he is, we'd be happy to give him a tryout in NXT."
McMahon jumped into the pouch of a waiting kangaroo that hopped off towards the airport.