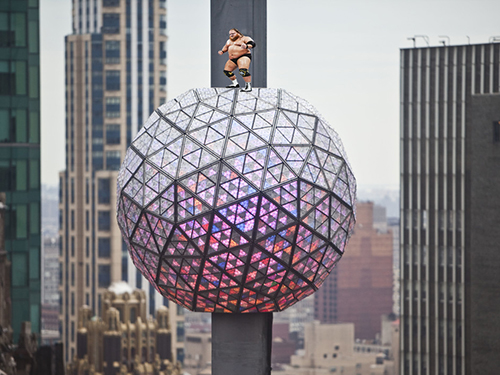 New York, NY – Times Square New Year's Eve organizers have announced that WWE Superstar Otis Dizovic will be replacing the traditional ball dropped at midnight.
"We are incredibly excited to have Mr. Dozovic joining us," said Times Square event organizer Belinda Accoune. "Fans were very excited when we revealed that Roman Reigns was going to have a wrestling match. It was only natural to include another member of WWE. In an effort to go green, we have removed the large light-up ball and will instead drop Mr. Dozovic.
Starting at 11:59, the rotund wrestler will be lowered to a platform until the clock strikes twelve. To compensate for the lack of lights, Otis will be covered in chicken grease, bacon fat, and Astroglide.
"Ooooh, yeaaaah!" shouted Otis during a test lowering. "Going to ring in the New Year. Tons of confetti! 2020 is Otis's year. Tag Team champs! Royal Rumble winner! Lots of smooches from Mandy! Glazed ham!"
"Looking good, buddy!" yelled his Heavy Machinery partner Tucker Knight. "Nice and easy."
A hydraulic malfunction caused the lowering to stop, leaving Otis suspended by his wrestling trunks.
"Oooooh, noooo!" hollered Otis. "Undies stuck! Real uncomfortable! Flashbacks to gym class! Tucky! Tuckyyyyyyyyy!"
After several hours stuck in mid-air, mechanics were able to fix the drop and returned Otis to the ground. Organizers are confident that Otis will not get stuck again, but have doubled the amount of chicken grease, bacon fat, and Astroglide as a precaution.