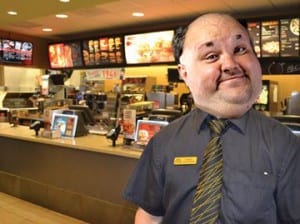 Greenwich, CT – WWE Archivist Benjamin Brown has announced the discovery of long-forgotten character designs for former WWF Superstar Friar Ferguson.
"It really is quite remarkable," said Brown. "Many fans will remember the short-lived 'mad monk' Friar Ferguson for his brown robe, Gregorian chant theme music, and sitting on his opponent's face, but few know that this was not the original vision for the character. These sketches prove it."
Brown's discovery includes multiple design drawings and hand-written notes from Vince McMahon himself. The sketches show that the character was a fast food worker named Fryer Ferguson, played by Mike Shaw.
"We were looking to have a tie-in with McDonald's," said Vince McMahon. "I had never tried one of their hamburger sandwiches, but I know a winner when I see it. We had it all planned out: Fryer was going to be a fry cook, sporting a McDonald's visor and name tag. He's toss out french fries to the fans and his moveset would adjust to items that McDonald's was advertising at the time. In March, his finishing move would be 'The Shamrock Shake' a variation on the swinging neckbreaker. When the McRib came back, Fryer would use an abdominal stretch. It would've been great."
When asked why the partnership never took place, McMahon said, "That stupid Arch Deluxe."
The Arch Deluxe was a burger heavily promoted by McDonald's in the mid 1990's that proved to be a financial flop. With heavy losses, the hamburger company canceled it's deal with WWF, depriving the world of a fast food working wrestler.
"It's a real shame," said Brown. "As we can see from the designs, Fryer Ferguson was going to come to the ring with an actual frying basket, still dripping with hot cooking oil. Plus, his theme music was going to be a bubbling cooking noise. It would have been incredible and delicious."