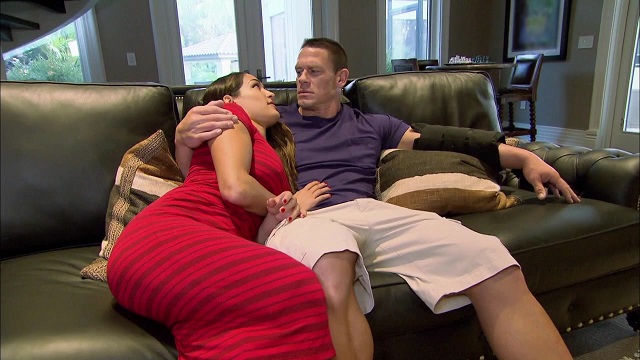 Scottsdale, AZ – The controversial ending to this past Sunday's cage match between John Cena and Bray Wyatt was actually not the ending that had been planned.
The finish, which involved a little boy singing to John Cena, causing him to be distracted, was thrown together after Cena nixed the original ending only minutes before Extreme Rules started. According to Wrestling Observer's Dave Meltzer, Cena's real-life girlfriend Nikki Bella was to appear at the door of the cage, get down on one knee, and ask Cena to marry her.
"It would have actually made a lot more sense than Little Johnny," said Meltzer. "It would have tied in nicely with Total Divas and still given the distraction necessary for Bray Wyatt to get a win."
Cena himself is said to be the one who demanded the ending be changed. The normally calm and professional Cena was seen sweating profusely backstage. He could be heard muttering to himself, "No way, man. No way. The Cenation isn't ready for this. John Cena has to be free!"
"Yeah, it was weird. Cena is usually so good, but the marriage thing had him really spooked," said Meltzer. "He was literally stomping his feet and shouting 'No!' over and over again. I guess his divorce really got to him."
Cena's fear of commitment had gotten the best of him and threatened to derail the entire show. Vince McMahon tried to alleviate Cena's fears by explaining that it was just an angle, but to no avail. With time running out, a child was plucked from the crowd and given Ole Anderson's voice changer, finally convincing Cena to perform.
For her part, Nikki Bella was seen in a darkened corner backstage, fingers bent in front of her face, softly saying "Soon, John. Very soon."