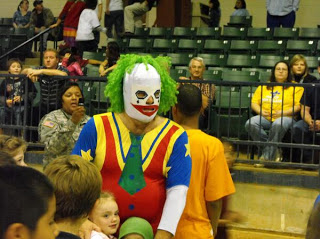 Public officials across the United States have begun warning local residents about the uptick in Doink the Clown impostors inhabiting the independent wrestling scene.
On the weekend of Saturday, October 1 alone, an estimated 37 individuals across the country elected to ply their trade as 'Doink the Clown', a popular wrestling character from the World Wrestling Federation in the 1990s, originally played by journeyman grappler Matt Borne. Of the 37 sterile-minded, imagination-devoid wrestlers, it is believed that all of them preyed on the wallets of naive fans without making it clear that they weren't the authentic Doink the Clown himself.
"One of those phonies was in the parking lot, and I saw him start walking right up to an eight-year-old boy," revealed an anonymous wrestler, who took part on a show this past Saturday in Wisconsin. "If I didn't begin walking up to the child myself, that fake Doink would have certainly taken advantage of him, probably would've charged $25 for a picture and autograph. I mean, that's just sick. Who would do such a thing?"
Officials worry that stories such as this will have a 'Streisand effect', and lead to pranksters dressing as Doink the Clown themselves, thus undermining the serious nature of these unfortunate occurrences.
"It's bad enough that there's one seventh-rate clown working our local events," laments a New Jersey promoter, who spoke on the condition of anonymity. "But now you're likely going to see multiple Doinks working the shows, and it just dilutes what was already an exhausted character.
"I think if you can't even make a credible balloon-animal, then you should leave the grease paint at home, and work under a different gimmick. Stop ripping off the fans, because it's not funny."
It remains unclear if law enforcement could potentially intervene in the event of an impostor Doink imposing his charlatan will on fans too ignorant to know better. Parents attending independent wrestling events with their kids are advised to use discretion, and stick close to their children during intermission should "Doink" be lurking.