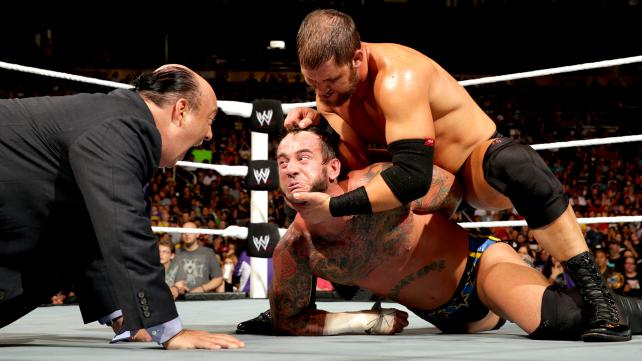 Phoenix, AZ – During a vicious beatdown at the hands of Paul Heyman and Curtis Axel, it became abundantly clear that no one in the back wants to help CM Punk.
As the assault on the handcuffed CM Punk continued on live television for several agonizing minutes, no one from the locker room deemed it necessary to come out and save the former WWE Champion. Shot after brutal shot from a Singapore cane rained down upon Punk with no end in sight.
"I was in the back at the catering table, enjoying those delicious cheese cubes they sometimes have" said Big Show. "I was in no shape to go out there. You ever try running with about 100 pieces of sharp cheddar and a gallon of milk in your stomach?"
Punk's former tag team partner and "road wife" Kofi Kingston was also noticeably absent. "I totally would have helped him, but I was in the middle of an intense game of Angry Birds. It's not like my phone has a pause button."
Even some of the under-utilized talent failed to come to Punk's aid. "What am I supposed to do," said JTG. "If I go out there, one of the McMahons might see me and realize I'm still employed. I just couldn't risk it. Sorry, homie. Ch'yeah!" JTG then hid inside dumpster when he thought he heard Stephanie McMahon's voice.
Asked if WWE plans to take any legal action against Heyman and Axel, Vince McMahon leaned back in his chair, thought for a moment, and replied, "Nah."