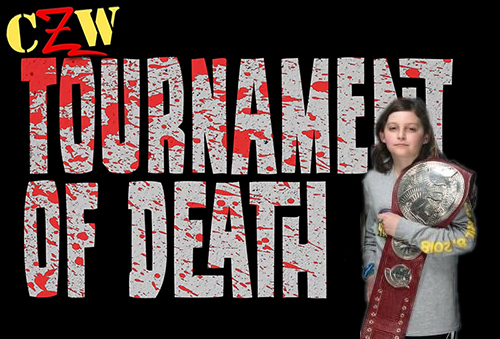 Townsend, DE – The wrestling world was stunned today with the announcement that former WWE tag team champion Nicholas will be taking on the Necro Butcher at CZW's Tournament of Death.
The event, which takes place in an empty field in Delaware, has become famous for extreme acts of violence and mayhem. It is not uncommon for wrestlers to leave bloody, broken, and burned. Thanks to the state's lax child safety laws, the match will be a bloodbath.
"After Wrestlemania, every wrestling company in the world wanted Nicholas," said the 10-year old's father John Cone. "TNA, ROH, PWG, LMNOP. They all want him, plus all the major conventions. Nicholas must finish all his homework first, then he can be in a deathmatch.
"We'd be crazy to pass up on a chance to have a former WWE tag team champion in CZW," said CZW owner DJ Hyde. "After we announced the match, both three rows sold out. Now we have enough money to hire an actual EMT for the event!"
"He seems like a nice young man," said Necro Butcher. "I very much look forward to smashing his face in with a steel chair wrapped in barbed wire. It's an honor to come out of retirement just so I can bodyslam a pre-teen on to thumbtacks."
Nicholas is currently deciding if he wants to bring light tubes or a pair safety scissors to the match.