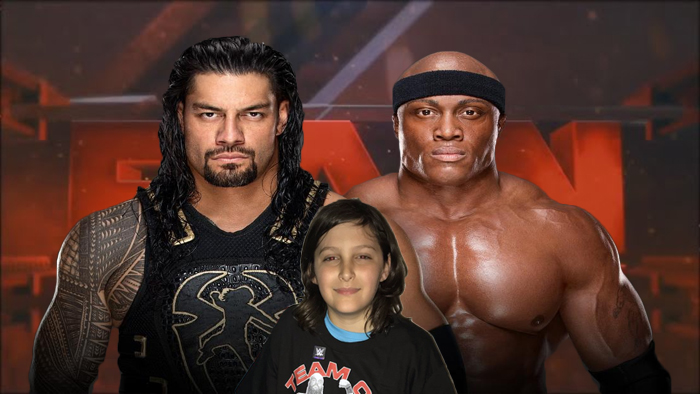 Cincinnati, OH – Fans were stunned when Stephanie McMahon made her historic announcement on Monday Night Raw. Speculation had been running wild with many believing the announcement would reveal new Women's Tag Team belts or the return of WWF ice cream bars.
"Well, I've done it again," bragged McMahon to the live crowd. "I, Stephanie McMahon, the beautiful genius, have come up with an incredible idea. Some will say the best idea. I did it myself. No one helped me. Not my dad or my brother or my many assistants and interns. Tonight, I am proud to reveal my big announcement!"
Alternating chants of "CM Punk!" "We want tables!" "This is awesome!" rang throughout the U.S. Bank Arena.
"Gentleman and ladi…haha, just kidding. Gentleman, I am pleased to announce that the star of this year's Wrestlemania, Nicholas, will now be in a #1 contenders match! Tonight, he will face Roman Reigns and Bobby Lashley in a Triple Threat match!" declared McMahon.
Nicholas, who hasn't been seen since having to abdicate his WWE tag team championship after Wrestlemania, nervously walked down the aisle. The aggressive sounds of Drowning Pool's "Bodies" blared throughout the arena, causing the elementary school student to flinch. McMahon held the ropes open for him as he cautiously hopped in to the ring.
Both Reigns and Lashley came to the ring to voice their displeasure, but McMahon dismissed their concerns.
"Nicholas is a former champion that won his very first match at Wrestlemania. He has never been defeated in the ring. Also, since it's the summer, he won't miss school. If you really want to face Brock Lesnar, the road to Summerslam leads right to Nicholas."
Nicholas took the microphone, stared at both his opponents and defiantly said, "Catch these hands!"
The live crowd erupted in cheers and chanted his name as McMahon's theme music played her out of the ring. Reigns and Lashley were left visibly shaken knowing they would have to compete against Nicholas later on.
Nicholas shirts have already sold out on the WWE Shop. Current champion Brock Lesnar is reportedly considering making the jump to UFC early.