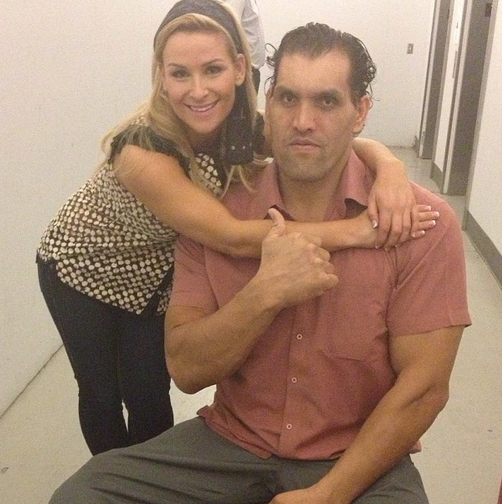 Calgary, Alberta, Canada – During an intimate Valentine's Day dinner, WWE Diva Natalya finally broke up with her on-screen boyfriend, The Great Khali.
The two superstars dined at Teatro Ristorante over a romantic candle-lit $90 per plate meal. They made small talk, but Khali noticed that Natalya seemed distant and distracted. When he gently inquired to what was bothering his love, Natalya broke down in tears.
"I'm sorry, Khali," said Natalya. "I've been living a lie for far too long and it's just not fair to you. We need to break up!"
A shocked Khali stared silently, trying to process the devastating news.
"You're right, there's another man," confessed Natalya. "I've actually been married to Tyson Kidd for a few months now. I just never found the right moment to tell you. I guess you don't watch Total Divas. I hope you understand."
"Dearest Natalya. I must confess that this news confounds me. My heart aches on a day that is meant for lovers. I may be large in stature, my feelings for you are even larger. I cherish the moments we spent together, whether it was dancing in the ring or dancing outside of the ring. Go, mi corazon, be with Tyson. He is a good and true man. You may have custody of our son, Hornswoggle. Raise him well. Though my heart is broken, you shall always have a place in it. Farewell, my dearest. Farewell."
Natalya kissed Khali on the cheek and ran out of the restaurant.
Khali stared out the window, watching his one and only love walk out of his life forever. He smiled gently as rain began to dot the windows of the restaurant. It was if the heaven's themselves were weeping for Khali's loss.
"Um, Mr. Khali, sir? Your credit card was declined," said the waiter.
Khali let out a deep roar as he Khali-chopped table in two. Before he could squeeze the waiter's head like an over-ripe cantaloupe, a young woman approached.
"Hi, Khali. I saw what happened with Natalya. I just want to say I'm so sorry. I'm here if you ever need me. My name is Becky. Becky Bayless."