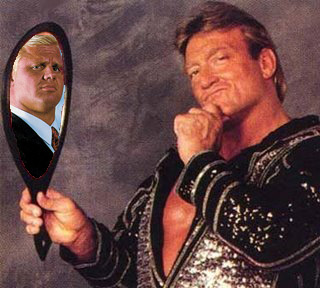 In a recent WCNewz interview at his home in Fayetteville, Georgia, Paul Orndorff expressed regret that he had chosen Mr. Wonderful as his in-ring nickname, rather than the more promising Mr. Perfect.
"I had 4 years on Curt," Mr. Orndorff lamented. "I should have taken my time. Back then, when you chose a name, it stuck."
Though Mr. Wonderful had memorable feuds against such stars as Dr. Death Steve Williams, Barry Windham and most famously, Hulk Hogan, he still wonders how things might have been different had he developed a Perfect reputation instead of just a Wonderful one.
"I mean, would I have lost that cage match on Saturday Night's Main Event to Hulk Hogan if I was Perfect? No. How could I have? I'd have been Perfect."
During an hour-long bowling game at Mr. Orndorff's bowling alley, our reporter was subjected to numerous rhetorical questions & statements from the former 2-time WCW tag-team champion, including:
"I wonder if I could have beaten Tito Santana if I was Mr. Perfect?"
"Mr. Perfect was the Intercontinental Champion."
"I'd rather be Perfect than Immortal."
After losing the bowling match to our reporter (220-134), Mr. Orndorff bitterly noted that he'd have bowled a 300 game if he was Perfect.