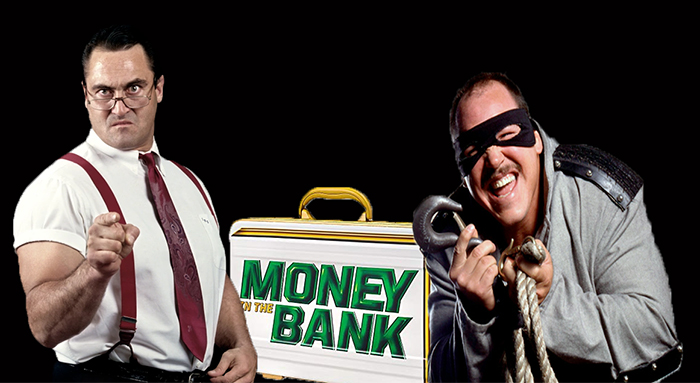 Cincinnati, OH – The Money In The Bank pay-per-view is in danger of being cancelled after the contract-holding briefcases were taken by IRS and Repo Man.
Irwin R. Schyster, the diabolical tax man, performed an audit of WWE's finances following the April 15th deadline and did not like what he saw. "Sloppy paperwork, using an ink color other than blue or black, and an unreported $50 million payment from the country of Saudia Arabia," said a disgusted IRS. "IRS never gives a break to tax cheats, not even the WWE. I've done the math isn't adding up, so I'll just have to take some governmental measures to ensure that it does."
Schyster employed the services of fellow former Superstar Repo Man to repossess the Money In The Bank briefcases and hold the event hostage until WWE pays their taxes.
Repo Man was caught on camera sneaking in the WWE warehouse in a most devious fashion. He crept and lurked in the shadows, waiting until just the right moment to take the briefcases. To kill time, Repo Man also rode around the warehouse on Hunico's low-rider bike and played patty cake with Mae Young's hand-baby.
"Look at these beautiful briefcases!" cackled Repo Man. "I could do all sorts of things we these. Put papers in them. Um…put other papers in them. Maybe a folder or two. The sky's the limit! WWE won't get these bad boys back until they pay the tax man. HAHAHAHA!"
WWE has responded to the repossession by garnishing Lio Rush's salary.