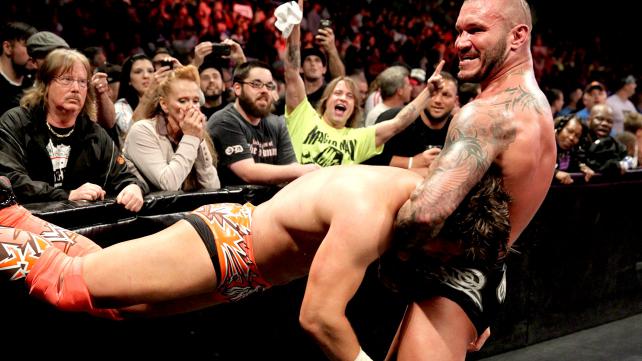 Cleveland, OH – After watching his son receive vicious beatdown on Raw at the hands of Randy Orton, George Mizanin was awarded the 73rd annual "Father Of The Year" award from the Father's Day Council.
A small ceremony was held at the Cleveland Hilton Conference Room C. Council chairman Dan Orweig was on-hand to present the Miz's father with a plaque, a "World's Best Dad" t-shirt, and a large honey-glazed ham.
Orweig commended Mr. Mizanin for his "Unwavering ability to show absolutely zero emotion or concern while his son was pummeled mercilessly mere feet in front of him."
Applause rose up from the crowd as Orweig continued, "It takes true courage to stand buy as a man that hears 'voices' tries to do everything in his power to hurt your son. Especially while his wife, the Miz's mother, stands right next to you weeping in horror. Bravo, sir! You've earned this."
Mizanin took the podium and spoke, fighting back tears, "Y'know, no father ever wants to outlive his son, but sometimes he just wants to see him have the snot kicked out of him. All those years of him listening to Linkin Park and yakking about Real World/Road Rules Extreme Inferno Tropical Challenge All Stars Whatever just pushed me to the brink. Last night, after they told me there was going to be a MizTV segment, I wanted to smack that little puke myself. I couldn't have done this without him. I love you, Mikey!"
Mizanin joins an impressive list of past winners including former President Bill Clinton, Yogi Berra, Wolf Blitzer, and father of twelve children with eight different women, New York Jets cornerback Antonio Cromartie.
For his part in the assault, Randy Orton will now be receiving a massive push as a babyface.