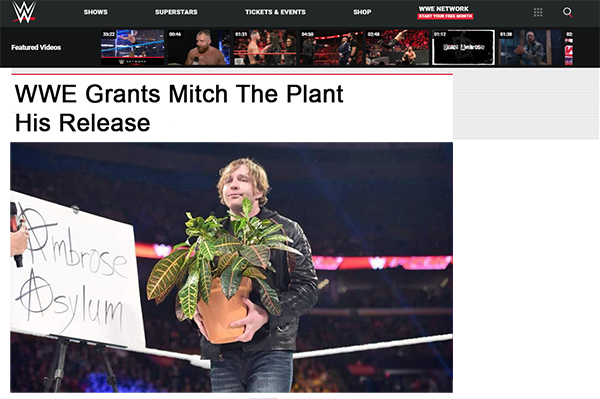 Garden City, KS – WWE Superstar and beloved house shrub Mitch The Plant asked for and has been granted his release from WWE. The surprise announcement was made this weekend on WWE.com
"We wish Mitch The Plant the best of luck in all of his future endeavors," it read on WWE's official website.
Many believe that the timing of the release coincides with his friend Dean Ambrose also leaving the company. Wrestling Observer's Dave Meltzer threw cold water on that theory.
"Honestly, it's been a long time coming. I think WWE was just waiting until after the Royal Rumble," said Meltzer. "Mitch was a rising star a few years ago in that feud between Dean and Chris Jericho. After he violated WWE's Wellness Policy for using Miracle Grow, his stock fell like a tree falling in the woods. Everyone heard it."
Fans are already speculating where Mitch will end up. The common belief is that he will end up in All Elite Wrestling, but Mexico and Japan are also options.
"I'm looking for a place to dig in and really spread my roots," said Mitch. "I will always be grateful for my time in the WWE, but I need to branch out. I really spread my leaves creatively. I've got a few seeds of ideas of what I want to do and where I want to go. A rolling stone gathers no moss, you know what I mean? I'm going to come back better than ever. Naturally, of course."
(Thanks to Chris Proper over on the F4W board and RD for the suggestion)