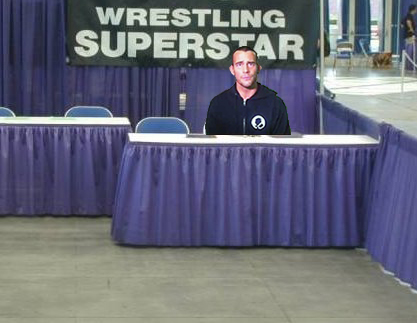 Ames, IA – Current UFC fighter CM Punk made his first public appearance this weekend at the Legends of Pro Wrestling Fan Fest this past week in Ames, Iowa.
The former WWE World Heavyweight Champion arrived early to Conference Room A of the Radisson Hotel, with two boxes of t-shirts, a folder of glossy 8×0 photos, advance copies of his new comic book, and several Sharpies. Punk set up his table beneath a banner reading "CM Punk: Wrestling Superstar" and made sure to find a chair with a cushion before they were all taken.
After becoming acclimated to his surroundings, Punk made sure to pay his respects to the other wrestlers also attending. After chatting for several minutes with former "Glamour Girl" Judy Martin, Kenny Dykstra, and Glacier, Punk grabbed a complimentary bagel and a can of Pepsi and settled into his booth.
Hours felt like days as CM Punk sat at by himself at his booth as lines formed for other wrestlers. After returning from the bathroom, Punk's hopes grew as he saw a line forming around his booth. To his disappointment, the line to meet Virgil had stretched to the front of his booth. Things did not improve for Punk as a young fan asked if he was Justin Gabriel.
After playing Candy Crush on his phone for 20 minutes, Punk decided to call his beloved.
"Yeah, I don't know what's going on. I guess Triple H was right. Oh well, at least I've got you, sweetie. I'll see you when I get back to Chicago. I love you too, Colt," said Punk.