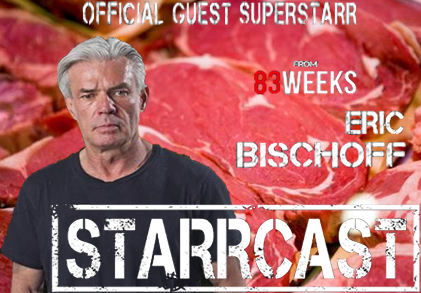 Chicago, IL – Starrcast, the wrestling fan convention being held in conjunction with the upcoming wrestling event All In, has added a special meet and greet to the list of events. Dubbed "Meat Eric Bischoff" fans will now get a chance to purchase meat directly from the former head of WCW.
"We want to give the fans something special at Starrcast. Something they'll never forget," explained Starrcast mastermind Conrad Thompson. "What's more special than a nice hunk of beef from the former star of WCW, WWE, and TNA?"
Prior to getting into professional wrestling, Bischoff ran a butcher shop and delivered the meat to hungry customers. Hulk Hogan famously referenced this prior occupation during a promo at Bash At The Beach.
"Sure, wrestling is a huge part of my life, but I will always be a meat man," said Bischoff. "Flank, Loin, Rump, Shank. Give me that any day over suplexes and disqualifications. The world of wrestling has always been crazy, but meat just makes sense. You know what I mean?"
It is currently unclear where Bischoff received his excess meat, but many are speculating that it is expired surplus from Hulk Hogan's failed restaurant Hogan's Beach. There is even a theory that the meat is from Hogan's other unsuccessful eatery Pastamania.
Bischoff addressed the rumors on his latest podcast episode by saying "You weren't there. You can't prove that it is. Green is a perfectly healthy color for meat. Besides, cows don't come with expiration dates anyway, geniuses."
The event will be held at the Hyatt Regency Parking Garage from 12:07am to 12:19am. Fans must take a number and stand in line behind Bischoff's 1983 Ford Country Squire. Prices vary per pound. Organizers ask that fans do not purchase meat just to throw it during the Death Of WCW panel.