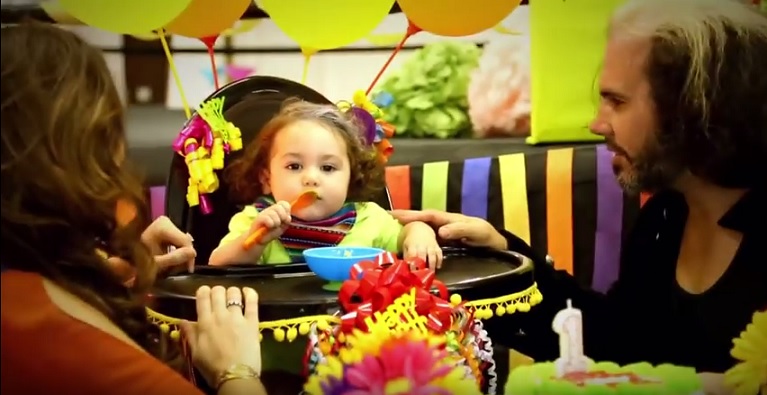 Nashville, TN – Maxel Hardy, the infant son of TNA stars Matt Hardy and Reby Sky, has demanded his immediate and unconditional release from TNA.
Rumors of Maxel's departure began swirling soon after his father Matt and uncle Jeff battled each other in what has been dubbed "The Final Deletion." Following the match, a visibly upset Maxel entered TNA President Dixie Carter's office. Several sources have reported that the two had a heated exchange that lasted well over an hour.
"When all was said and done, someone left in tears," said longtime TNA employee Jeremy Borash. "And it wasn't Maxel."
What was said between the two is unclear, mostly because Maxel can't speak yet and because Dixie just kept repeating 'Sugah' over and over again.
Maxel's lawyer, Jeffrey Nussbaum, Esq, released a statement, saying "Maxel Hardy has been unhappy with the direction of his character for some time. Despite several attempts to work with TNA creative and providing them with multiple character adjustments and storyline ideas, Maxel remains mired in mediocrity. The events of The Final Deletion was the final straw. After meeting with Dixie Carter, I have advised my client to seek a release from his contract so that he may reach his full potential elsewhere, whether that may be inside or outside of a wrestling ring."
Nussbaum continued, "I would now like to read a direct quote from Maxel: 'I can't. I just can't anymore. Did you see that Final Deletion crap? That awful editing? That ridiculous music? Drones, fences, fire? I mean, everything was pre-taped and they still left in a botch. Is it supposed to be funny or serious? TNA is a sinking ship and I still need my swimmies. I have my whole career ahead of me and I don't need any of this. I didn't even get to keep the xylophone that Señor Benjamin gave me for my birthday. Dixie said something about having to put it on layaway. That xylophone was exquisite!'
Many believe that Maxel will receive his release within the next few days. In order to continue the "Broken" Matt Hardy story, TNA officials are outfitting Eli Drake in baby clothes.