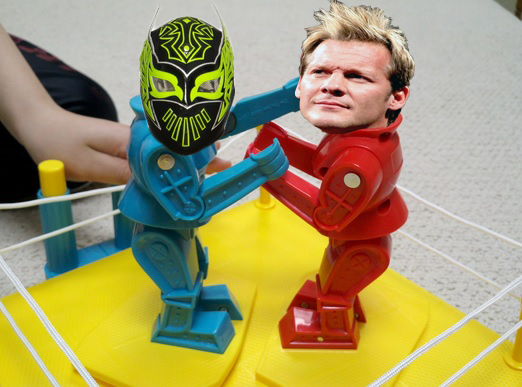 El Segundo, CA – World-famous toy manufacturer Mattel announced today that they have joined forces with the WWE to create a Rock 'Em Sock 'Em Robots game starring WWE wrestlers.
In a conference call with investors, Mattel CEO Christopher A. Sinclair said of the partnership, "WWE and Mattel have a long history of creating fun for children and horrible annoyances for adults. This partnership just makes sense."
"We're trying to thread the needle between appealing to young kids and super marks with too much disposable income," said Stephanie McMahon. "Kids will love the high-impact action that Rock 'Em Sock 'Em provides while the man-children can take out their frustrations on Superstars they don't like as well as re-enact their favorite backstage shoot fights."
The first wave of Rock 'Em Sock 'Em Wrestlers will include Sin Cara, Chris Jericho, Sheamus, Brock Lesnar, Bill Goldberg, and Simon Gotch.
"Now the WWE Universe can pretend to be their favorite WWE Superstar getting his block knocked off for cutting in line at catering, making annoying sounds on the bus, or just being an all-around jerk!" said McMahon.
WWE and Mattel are also planning on releasing a line of "classic Superstars" robots that will feature Harley Race, Haku, Undertaker, JBL, Shawn Michaels, and Buff Bagwell.