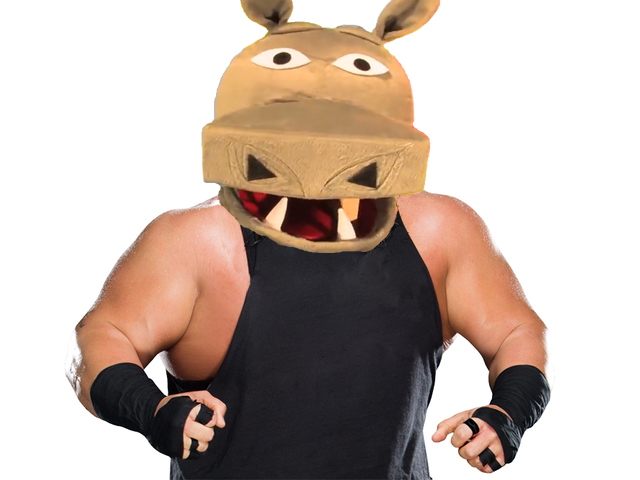 San Diego, CA – A brand new Superstar going by the name of Hyppo made his debut at this week's Monday Night Raw.
Hailing from Lansing, Michigan, the previously unknown newcomer made short work of local opponent. Wearing a large hippopotamus mask over his head and a black singlet with his misspelled name splashed across the front, he wowed the crowd with dominant power moves. The stocky beast-man used an array of punches, kicks, and body slams, to wear down the jobber.
Hyppo, feeling the crowd on his side, let out a dominant moo, before finishing the match with his signature tackle dubbed "The Charge."
After the match, Hyppo grabbed the microphone, pointed to the locker room and yelled "Heath! Slater!"
"Man, I don't know no Hyppo," said a terrified Slater backstage. "Whatever I did, I'm sorry. Hyppo, I'm sorry! Please accept my gift of Mountain Dew Code Red, Golden Flake Pork Cracklins, and my favorite Cracker Barrel t-shirt as a peace offering. Just…just don't moo at me again, please!"
While several people suspect that Hyppo is actually the recently released Rhyno under a mask, Rhyno released an airtight alibi.
"I was not at Raw and was not even in San Diego at the time," explained Rhyno. "I was having a nice quiet dinner with my friends Miss Atlanta Lively, Mr. America, and The Black Scorpion."