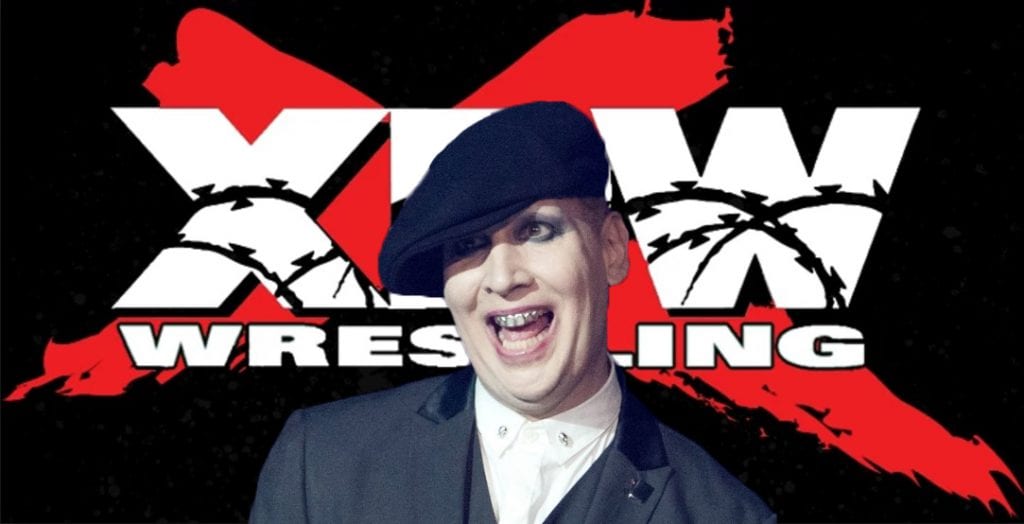 Hollywood, CA – Hot off the heels of Smashing Pumpkins leader Billy Corgan buying the NWA, shock-rocker Marilyn Manson has announced that he has bought the rights to Xtreme Pro Wrestling.
Founded in 1999, XPW was best known for its hardcore matches and outlandish characters. Details are still forthcoming, but it is believed that Manson spent tens of dollars to obtain the XPW name and video library.
"I'm not much of a wrestling fan, but I am a fan of grabbing people's attention and holding on the last remaining shreds of popularity," said Manson while sipping Hawaiian Punch from a skull-shaped goblet. "I was flipping around on Youtube and came across XPW and knew I had to have it. Pogo The Clown, Homeless Jimmy, Khan Kussion, The Stepfather, Damian 666. It's all a rich tapestry of the sick and the depraved. I love it. We're all stars now in the Deathmatch!"
Many in the industry have called it the perfect fit for Manson.
"While there's some potential for Billy Corgan to do something with the NWA, the Marilyn Manson-XPW tag team is a no-brainer," said Dave Meltzer from the Wrestling Observer. Both are way past their prime and still make moms really uncomfortable, so the only place to go is up."
"WHY NOT?!" yelled Bryan Alvarez on the Bryan and Vinny podcast.
"Bro," said Vince Russo. "He is the devil himself and I cannot think of anything more appropriate than Marilyn Manson hooking up with an organization like XPW."
Manson is reportedly mulling over what he plans to do with XPW.
"Maybe I'll get the matches on to Netflix. Maybe I'll bring them out on tour with me. Maybe I'll just have them throw me through some flaming tables and barbed wire. Maybe I'll have a private tickle fight with Colt Cabana. Either way, I'm definitely making sure I have all of my shots and vaccines," said Manson.