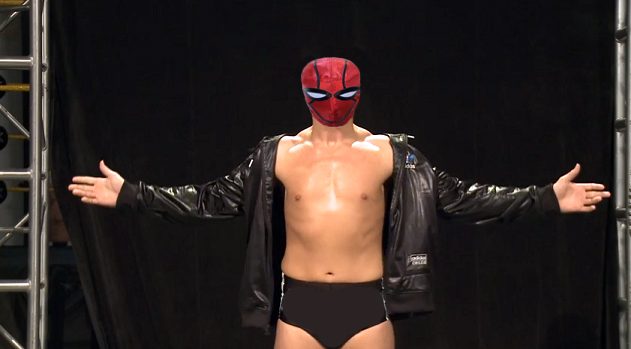 (Today's Headlie was written by Crapper Seth "Citizen Kane Dewey" Falvo. Thanks Seth!)
Mena, AR – Despite being introduced as "a rising star in the underground Mexican wrestling scene" making a one-night only appearance in the United States, many fans in attendance for Saturday night's Western Arkansas Championship Wrestling (WACW) event felt that promotional newcomer El Ganso Rojo, a luchador billed from Tijuana, Mexico, bore a striking resemblance to local independent wrestler Johnny Poison, who wrestled on the card earlier that evening.
"I just find it odd that El Ganso Rojo and Johnny Poison both have pasty complexions, skinny-fat physiques, are the same height, and both men have a wrestling style that's mostly enzuguri variations and sloppy moonsaults," remarked local wrestling fan Tyler Colemon, who was in attendance Saturday night.
"They even have the exact same tribal armband tattoo on their right arms, although I guess that's inconclusive, since half of the WACW roster does as well."
Some have gone as far as to accuse Johnny Poison and El Ganso Rojo of being the exact same wrestler indifferent costumes, as to cheaply pad the WACW roster.
"El Ganso Rojo was wearing the exact same baggy red pants that Johnny Poison wore during last week's Razorback Wrestling Syndicate show," says Tom Pettimore, proprietor of the popular wrestling conspiracy website DougGilbertsTruths.info. "For god's sake, El Ganso Rojo's pants had black Olde English 'JP' letters sewn onto the right thigh!"
While the conspiracy is popular among many in the wrestling community, veteran wrestling journalist David Munster dismisses it as hearsay.
"Any real wrestling fan can tell that, while they may look sort-of similar, there is no way that El Ganso Rojo and Johnny Poison can be the same guy," Munster remarked. "You can clearly tell by their wrestling styles that El Ganso Rojo is influenced by classic WCWcruiserweights like Psychosis, Dean Malenko, and mid-90s La Parka, while Johnny Poison is more influenced by new-age WCW cruiserweights like Blitzkrieg, Super Calo, and late-90s La Parka."
When asked for comment, WACW Promoter and World Heavyweight Champion "Handsome" Scott Hewson remarked that the alleged similarities between El Ganso Rojo and Johnny Poison were suspec tat best.
"First of all, Johnny Poison left the arena on a stretcher after being chokeslammed by "Heart Attack" Bobby Dunlap during the opening match, so it's impossible for him to be El Ganso Rojo," said Hewson. "Besides, Johnny wrestles with a shirt on, so any of the so-called similarities between their physiques are impossible to tell."
Wrestlecrap was unable to reach out to either El Ganso Rojo or Johnny Poison for comment, as WACW officials have informed us that the reclusive El Ganso Rojo was already back in Mexico and does not respond to media inquiries, and that Johnny Poison's father has stopped paying his cell phone bill.