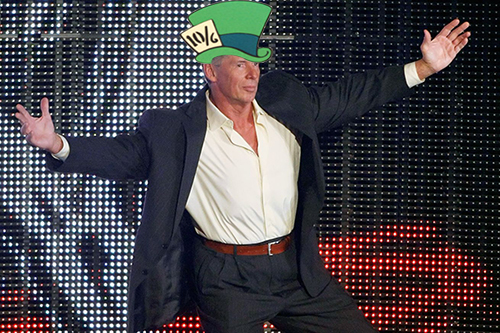 Hartford, CT – In the weekly pre-Raw staff meeting, WWE CEO Vince McMahon made a stunning announcement that will change sports entertainment forever.
"WWE needs a new shot of adrenaline and I'm about to give it a lethal dose," said McMahon, sporting a large green hat with a "10/6" note on it. "WWE used to be much more…muchier. It has lost it's muchiness. When things aren't working, you do the opposite, right? Well, from now own, losses will now count as wins in the WWE!"
The staff shot concerned looks to each other.
"Um, what do you mean dad, asked Stephanie McMahon.
"Great question, Alice!" said McMahon with a wild gleam in his eyes. "AJ Styles lost at Wrestlemania and is now challenging for the WWE World Heavyweight title. The New Day lost at Wrestlemania and they're still champions. Shane lost and he's hosted Raw multiple times!  Losing is the new winning! Now everyone change places!"
The group quickly shot out of their seats, frantically running to another seat in the room in order to please their mercurial boss.
"Sorry, folks. I have to run. I'm late for a very important date," said Triple H while checking his pocketwatch.
"The giant white rabbit is right!" hollered McMahon while pouring himself some tea. "We need to get the word out about the new, fantabulous, schmantastic, tip, top, testaculacular WWE!"
McMahon pointed to Pat Patterson and Jerry Brisco, saying "Tweedledee and Tweedledum, you tell the Queen of Hearts that losses are now wins! Wrestling matters! Cross the line! Change places!"
The weary staff members scrambled around the room to find new places with several people scrambling over the large oak wood conference table.
"Sorry, giant talking doorknob," said McMahon. "You were the last one to change places. I'm going to have to give you a good twisting!"
Executive Vice President of Television Production Kevin Dunn was soon rushed to the urological wing at Hartford Hospital for emergency surgery.