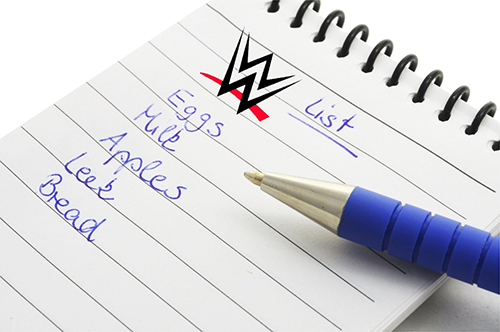 Stamford, CT – Sportskeeda.com has produced a list of potential names for current and future WWE and NXT wrestlers and personalities.
"For one reason or another, a lot of WWE talent have had their names changed," said writer Kumal Barthwal. "Sometimes it's a shortening to just a first or last name like Rusev or Andrade. Other times it's a completely new name like Ivar or Rick Bugez. An anonymous source has provided us with a list of names the WWE writing staff is using."
The list of the names includes:
Chud Gunderson
Michael McMichael
Benny Alpha
Poop Emoji
Anna Mal
Bill Phrooks
Chuffed Bagwell
Moosejaw Saskatchewan
The Snuggler
Chuck Steak
Bell Peppers
Kit Kat
Lemon Squares
Hotdog Buns
Chocolate Chip Waffles
Baby Wipes
Honey Oats
RC Cola
2% Milk
Turkeysandwich No-Mayo
While many fans suspect that the leaked names is actually a partial a grocery list, several WWE staff writers have confirmed that that those are, in fact, potential wrestler names.