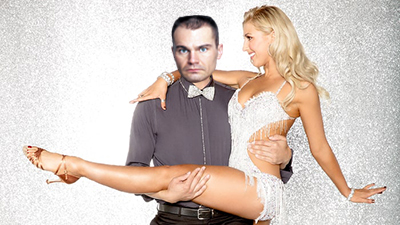 Los Angeles, CA – In a surprise move, former WWE, WCW, and ECW wrestler Lance Storm has joined the popular dancing competition Dancing With The Stars.
Following the increased viewership from wrestling fans after WWE star Nikki Bella joined the cast, network executives requested that another wrestler be added.
"Thanks to Nikki, we've reached a whole new audience that was never interested in competitive dancing before," said executive producer Ashley Edens-Shaffer. "Now is the time to capitalize with this new audience and bring in another wrestler."
While there have been many wrestlers known for their dancing skills, the show's producers wanted someone with good, solid fundamentals and a no-nonsense attitude.
"We needed someone with the right skill set to really make an impact: athletic ability, determination, dependability, and a flair for the dramatic. Lance Storm was our man," said Edens-Shaffer.
Joined by professional dancer Emma Slater, Storm filmed his first routine to rave reviews.
In a darkened studio with a single spotlight on him, Storm addressed the crowd and the audience at home. "If I could be fabulous for a moment," he said as the house lights came up and his routine began.
Decked out in a sequin-covered tuxedo, Storm completed an impressive medley of dances set to a remix of Whitney Houston's "I Want To Dance With Somebody". Starting with the cha-cha, Storm transitioned seamlessly into the bunny hop and then the Hully Gully. The audience roared with approval as Storm flawlessly performed the Hustle, the Monkey, the Jerk, and the Mashed Potato.
Switching gears, Storm and Slater then performed a sultry Tango, Merengue, and Lambada. Women in the audience were moved to tears by Storm's elegant and sensual dance moves. Storm capped off his routine with an incredible split that brought the audience to their feet.
The addition of Storm has proven to be a ratings bonanza for Dancing With The Stars. Producers are currently trying to bring "The Boogie Woogie Man" Jimmy Valiant on to the show as well.