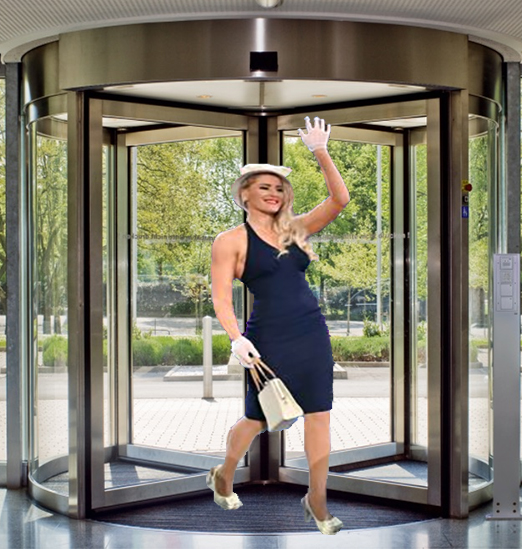 Hartford, CT – WWE Superstar Lacey Evans missed her championship match at Money In The Bank last night after she became stuck in one of the XL Center's revolving doors.
Evans, who was set to challenge Becky Lynch for the Raw Women's Title, arrived at the arena along with the other wrestlers, but was not seen in the locker room all day.
"I was a bit worried when I didn't see her in the locker room, but I assumed she was just getting her hair done or drinking iced tea or whatever it is she actually does," said fellow wrestler Ember Moon.
Prior to bell time, WWE officials found Evans constantly walking in a circle in a revolving door.
"We received a call at about a woman being stuck around 9:30 last night," said fire chief Moe Malinowski. "When we arrived, we saw Ms. Evans casually walking around the revolving door, waving to onlookers. It was bizarre."
"I yelled out, 'Ma'am, do you need assistance?' said head of XL Center's security Brent Govedaris. "She just smiled and said 'Sugar, I'm happier than a June bug in a plum pie!' We took that as a sign that she wasn't in any duress. Since the door wasn't malfunctioning, we just left her in there."
"What an absolute plank," said Becky Lynch who retained her title via count-out. "Lacey Evans is the Sassy Southern Bellend, if you ask me."
While Evans did eventually walk out of the revolving door, she was last seen at the Bradley International Airport walking on top of a baggage carousel.