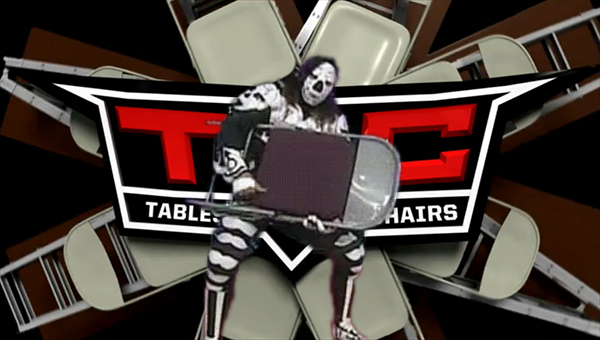 San Jose, CA – Beloved luchador La Parka made his surprising return to US professional wrestling last night at WWE's TLC event.
The masked Superstar, known for his skeleton outfit and incredible dance moves, was hired by WWE COO Triple H to ensure all chairs used at TLC were up to code.
"Thing tend to get wild at TLC," said Triple H. "Ladders falling, tables breaking, and chairs being swung around like it's last call and Dick Murdoch is still sober. Despite the encouragement of using weapons to hurt your opponent, we require fairness in all our matches. We can't have unregulated chairs being used. We needed an expert and who better than the former 'Chairman of WCW'?"
La Parka sat ringside for each match, a pair of glasses over his mask and measuring tools by his side. While most competitors acquiesced to La Parka's inspections, trouble arose during the main event.
WWE Champion Daniel Bryan brought a non-sanctioned chair from his home to attack AJ Styles. The chair, an organic, gluten-free wicker lounger, was ripped from Bryan's hands by in incensed La Parka. The luchador wagged a disapproving finger at Bryan before turning the chair sideways and playing it like a guitar.
"What an incredible moment in our sport. I hope La Parka officiates every match!" said Michael Cole on commentary.
"Actually, it's L.A. Park," said Corey Graves matter-of-factly.
"No one cares. You're dead weight, Corey," snapped Cole.
"The internet cares, Michael!" said Graves indignantly.
"The internet? Is that where you met your girlfriend from Canada that no one has ever met?" questioned Cole.
La Parka, annoyed by the bickering, smashed both announcers with the wicker chair to thunderous cheers.