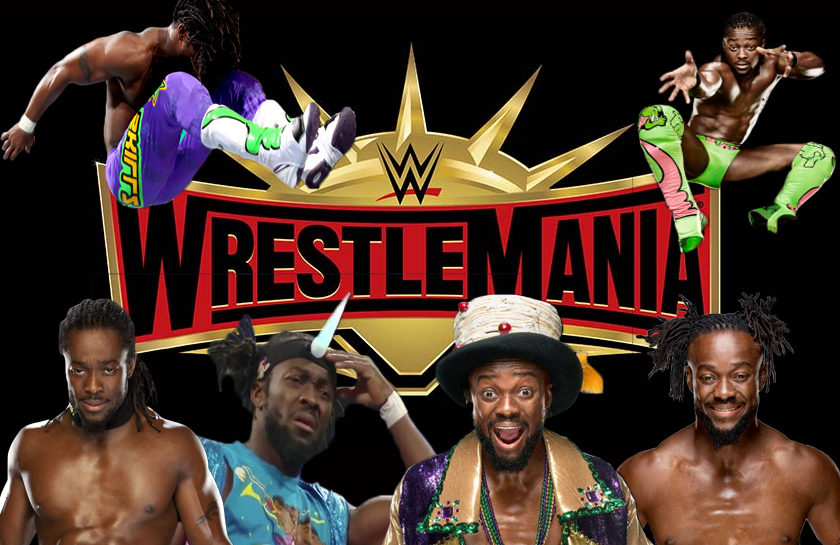 Indianapolis, IN – In a surprise announcement on Smackdown, Vince McMahon declared that fan-favorite Kofi Kingston would be taking part in every Wrestlemania match.
Since his surprise inclusion in the Elimination Chamber match, Kofi Kingston has received a groundswell of support from the WWE Universe. Recently, though, McMahon has stood in his way, denying Kingston a shot at the WWE Championship. That all changed when the two met in the ring.
"I have heard the cries of the WWE Universe," said McMahon addressing the live audience. "It takes a big man to admit when he's wrong, and there's no bigger man than me. Kofi, I was wrong about you. You're not a B+. You're an A in my book and A's deserve to be competing at Wrestlemania!"
The crowd erupted in cheers as Kofi was embraced by his New Day partners.
"This is a dream come true!" exclaimed Kingston. "I will make my family and the WWE Universe proud when I defeat Daniel Bryan and become the new WWE Champion!"
"It won't be easy defeating Bryan, Kofi," said McMahon matter-of-factly. "You see, you'll probably be very tired after also competing in the Andre The Giant Memorial Battle Royal!"
The crowd responded to the news with a mixture of cheers and boos.
"Not to mention you'll be exhausted after serving as the special guest referee in the Women's Triple Threat match featuring Becky Lynch, Rhonda Rousey, and Charlotte!" bellowed McMahon. "You'll be completely worn out as you work the ringside camera for Brock Lesnar versus Seth Rollins! Totally drained after doing the announcing to the Cruiserweight Championship match! Utterly sleeping after putting together the Women's Tag Team match! Completely spent after polishing Kurt Angle's head before, during, and after his match!"
Utter confusion set in with the live audience as they tried to understand what was happening,
"You said you wanted to be at Wrestlemania, Kofi. Oh, you're be at Wrestlemania, all right!" declared McMahon. "You now must participate in every, single match. You must make sure Roman Reigns's hair stays permanently wet. You must keep the crowd entertained during The Miz vs. Shane match somehow. You must keep the bathroom lines orderly during Randy Orton's rest holds against AJ Styles. You must find an opponent for Asuka. Good luck, Kofi. Be the A player we know you can be. Don't forget your pancakes. HAHAHAHA!"
After hearing of Kofi's inclusion in every Wrestlemania match, WWE Superstar Tyler Breeze threw his remote to the floor and opened a second pint of Chunky Monkey ice cream.