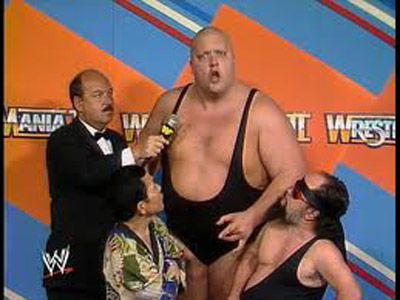 King Kong Bundy has finally ended over 25 years of speculation in an exclusive WCNewz interview, stating emphatically that he is responsible for killing midget-wrestler Little Beaver via bodyslam, followed by a "big elbow" in 1987.
Bundy (known as a "walking condominium") told our reporter:
"Yeah. He died of emphysema in 1995. 'Cause I squished the air right out of those tiny lungs in '87 and he never recovered," the remorseless Bundy said.
"It just took a while. Just like it takes a while for the ref to count to 5!" Bundy added with a chuckle.
WCNewz reached out to "Hillbilly" Jim for a comment, who also took part in the mixed-tag WrestleMania 3 event.
"That dag gum Bundy better be carful a-whut he says or I'm a-gonna sick Granny & my houn' dog on 'em," the country boy responded between belches and slugs of moonshine.