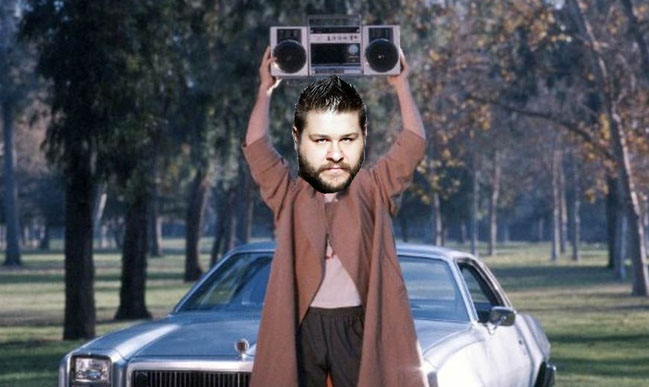 Tampa, FL – WWE Universal Champion Kevin Owens made a very public apology to his former partner Chris Jericho yesterday morning outside of Jericho's home.
Armed with a boom box, Owens stood next to his car and blasted Peter Gabriel's "In Your Eyes" to get Jericho's attention.
"Go away, Kevin!" shouted Jericho while peeking out of his curtains.
"Chris, I'm sorry!" said Owens. "I just got so wrapped up in everything that's been going on with Goldberg and Fastlane and Wrestlemania. Plus, I'm trying to do use TurboTax to do my taxes and it's really hard to figure out the exchange rate between U.S. and Canadian dollars. Come on, you know this is my busy season! I didn't mean to hurt you!"
"You threw me into flat-screen TV, Kevin!" yelled Jericho. "It hurt. A lot. My partners always end up hurting me. You, Big Show, Gedo, Christian. Even Lance Storm hurt me with his pointy, pointy words. You'll just do it again!"
Owens sighed deeply. "Look, Chris. From one Canadian to another, I'm sorry. I was wrong. I need you. I…I love you."
"R-really?" asked Jericho as he pulled the curtains away from his window.
"Really," said Owens. "And I want to make it up to you. Shine up your US title belt, pick out your best scarf, we'll pick up some discount Valentine's Day chocolates, and let's get dinner. Anywhere you want. You can pick your favorite restaurant in your hometown of Toronto."
"I'm from Winnipeg, you idiot!" yelled Jericho before slamming his window shut and burying his face in his pillow.