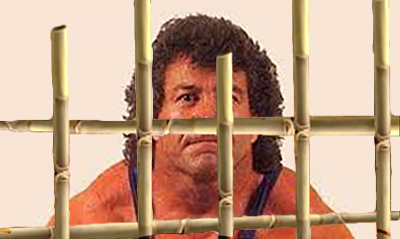 Philadelphia, PA – Philadelphia police announced Monday morning that they have arrested former wrestling star Ken Patera and placed him in Punjabi Prison.
In a prepared statement, Philadelphia Police Captain Donald Carpenter said, "At 12:34am this morning, police responded to a break-in at a McDonald's on North 52nd street. While no money was taken from the registers or the safe, several Big Macs, Quarter Pounders, Egg McMuffins, and McFlurries had been eaten. Our detectives worked fast and deduced that the crime had fit a pattern. With WWE in town for their Battleground Pay-Per-View, we quickly placed Mr. Patera in police custody."
Patera famously was sentenced to two years in prison after he and fellow wrestler Masa Saito threw a large rock through a McDonald's window and assaulting a police officer.
Carpenter continued, "Do to overcrowding in our local jails, WWE has graciously allowed us to hold Mr. Patera in the Punjabi Prison used in last night's championship match between Randy Orton and Jinder Mahal."
"This is insane!" said Patera from inside the Punjabi Prison. "I was at home asleep when the cops busted down my door saying I broke into a McDonald's. I haven't been to a McDonald's in years. I prefer Checkers! Don't I get a phone call? Where am I supposed to go to the bathroom?!"
While there is no time table for Patera's release, WWE officials have promised to keep him in the Punjabi Prison until the next time they need to use it. Many believe that won't be until the company tours India in 2021.