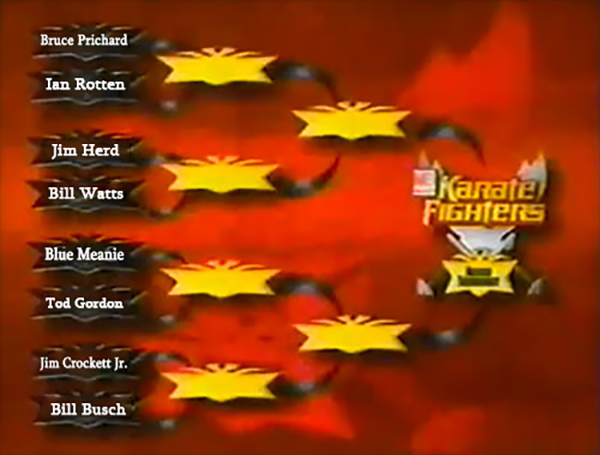 Stamford, CT – After the surprise move to place Paul Heyman in charge of Monday Night Raw and Eric Bischoff in charge of Smackdown, Vince McMahon has announced a tournament of wrestling officials from the 90's to decide who will run WWE's cruiserweight show, 205 Live.
"It's time to shake things up," said McMahon. "WWE has gotten stale. I'm taking it to new places and by new, I mean the 90's. 3D Doritos! Raw is war! Genetic jackhammer! Somebody once told me the world is gunna roll me!" shouted McMahon while cracking open a vintage can of YJ Stinger.
"Now that Raw has Paul Heyman and Smackdown has Eric Bischoff, I want to inject 205 Live with that same 90's juice. Like a Gusher filled with ICOPRO. It's time to bring back more officials from that era. Unfortunately, all these geezers are too old to actually fight each other," said a disgusted 73-year-old McMahon. "So, we'll have to settle it like I settle everything in the 90's: with lots of lawyers and with Karate Fighters!"
Karate Fighters was a toy line produced by Milton Bradley where children would twist a plastic knob controlling their karate figure, causing it to flail about in hopes of hitting their opponent. The Rock 'Em Sock 'Em-style toys were featured heavily on WWF television including a series of matches between on-air talent.
Tournament participants include WCW's Jim Herd, Bill Watts, Bill Busch, ECW's Tod Gordon, Jim Crockett Jr., Ian Rotten, The Blue Meanie, and heavy favorite, Bruce Prichard.
Noticeably absent from the tournament are two real-life rivals, Jim Cornette and Vince Russo.
While fans may have wanted to see Cornette finally take on Russo, Cornette said, "I'm loyal to MLW and I've got my plate full with the Jim Cornette Experience. Plus, I'd rather have my dick slammed by the toilet seat than go back to that nuthouse. If Russo wants to fight me, he knows where to find me and my favorite Karate Fighter, Thunderfoot."