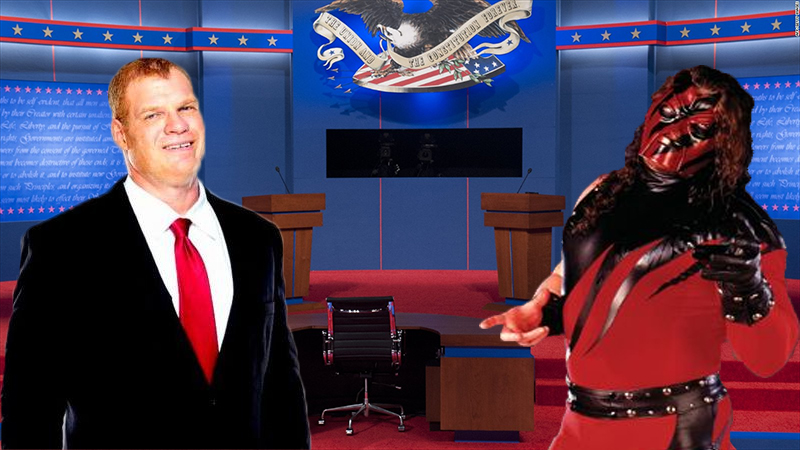 Knox County, TN – The political world was shocked today when WWE Superstar Kane's opponent for Knox County mayor was revealed to be none other than Impostor Kane.
The fake Kane, last seen being unmasked and thrown out of a WWE event in the mid 2000's, has been quietly campaigning in the area for several months. Hours of door knocking, phone calling, and eating terrible dinners at voters' homes has led to a primary win of hi own. He will finally get his revenge on Kane in the mayoral battle of a lifetime.
At a local Kiwanis barbecue, Kane addressed the next phase of his campaign, saying "The people of Knox County deserve someone who is fair, balanced, and does not pretend to be something he's not. I will tombstone taxes, sidewalk slam municipal improvements, and attach a car battery to the testicles of poor test scores!"
Suddenly, pyrotechnics erupted around the stage and eerie organ music played. Fake Kane lumbered to the ring in the classic Big Red Machine mask and outfit. The two stood face to face before Fake Kane slowly raised his hands before dropping them and setting off more pyro. The crowd clapped politely and talked among themselves.
"I like them both a lot," said retired teacher Irma Gray. "I'll make my decision in the voting booth…as long as neither one of them sets it on fire."
"Fake Kane is a total fake. I don't like phonies. Then again, I read that the real Kane killed his girlfriend and then defiled her corpse," said mechanic Dale Quirk. "I'm still undecided."
The two will face off in several high-profile debates. There will be no count-outs, no disqualifications, and the audience must remain silent. Voting will take place on August 2nd inside of a Hell In A Cell.