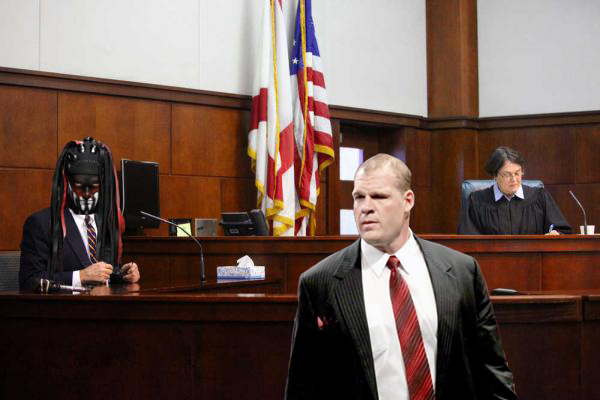 Dover, DE – The trial of the century began today in a Deleware courthouse as WWE Superstar and Director of Operations Kane sues former WWE Universal Champion Finn Balor for gimmick, copyright, and "Demon" infringement.
The scene was tense inside of the court house as Kane, who was representing himself, addressed the court. He looked at Balor, then at the judge, before addressing the jury directly.
"My friends. Over the coming weeks and months, I intend to show that the defendant, Mr. Balor, knowingly and willingly used the "Demon" moniker, in direct conflict with my copyrighted usage of the name," said Kane. "His elaborate entrance, his usage of the colors black and red, and his one-day reign as champion are all directly stolen from my career. Ladies and gentleman of the jury, you will see how this theft of my name and image has adversely affected my job, my livelihood, and my personal health. Please make the right decision."
Balor's court-appointed lawyer, former WWE manager Clarence Mason, took his turn addressing the court.
"My defendant, Finn Balor, is innocent of all charges," said Mason. "If anything, he is guilty of being innocent. He is so incredibly guilty of being innocent that you will be compelled to convict him of his total innocence. The plaintiff, Mr. Kane, has no case. Mr Kane has a scary face. Justice will be served and Mr. Kane will be put in place. Thank you."
Later in the day, Balor took the stand and was cross-examined by Kane.
"Please state your name for the court," said Kane, looking over his notes.
"Finn Balor," he quietly replied.
"You once wrestled under the name 'Prince Devitt'. Is that correct, Mr. Balor?" asked Kane.
"Yes, I…" started Balor before being interrupted by Kane.
"So you went from Prince to King," said Kane matter-of-factly. "Where is the documentation for the change? Who agreed to this change? Did Jerry Lawler give you permission to use 'King'? How many licks does it take to get to the center of a Tootsie Pop? Why are they called fingers if they don't 'fing'? Who stole the last cookie from the cookie jar? How many lives must you ruin, Mr Balor? We want the truth! You're not a demon, you're just a man!"
The judge ordered the court to take a one-hour lunch break. Kane went to a cafe down the street where he enjoyed a turkey club sandwich, potato salad, and an unsweetened ice tea. Balor hid in the courthouse bathroom and cried.