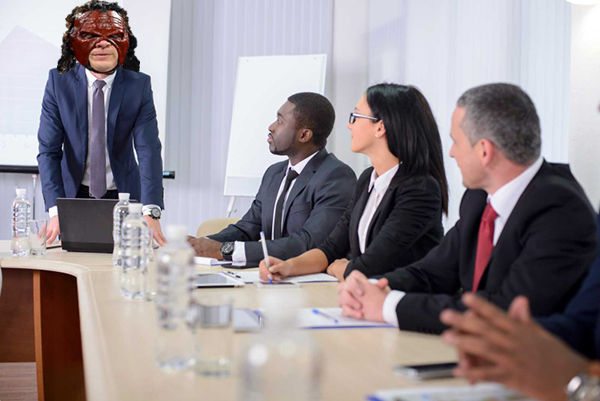 Stamford, CT – Following the events of last Monday night in which he attacked WWE champion Seth Rollins, Corporate Kane met with several members of WWE's Human Resources division.
Kane, who just recently returned to work following an injury, sat at a long table, flanked by HR workers Katherine Buonano and Katherine Capatelli. The "Kathys" as they are known around the office got right down to business.
"Kane, we need to address your conduct from this past Monday," said Kathy B. "We received several complaints from both Superstars and management. We'd just like to hear your side of the story."
Kane took a sip of water and unbuttoned his suit jacket. "First of all, I would just like to thank both of you for taking the time out of your busy schedules to meet with me," said Kane. "I am more than happy to clear the air and resolve this so I can get back to being the best Director of Operations I can be."
The Kathys nodded in unison.
"It's no secret that Seth and I have had our…issues," said Kane. "But that is in the past. Thanks to the work of Dr Shelby, I have defeated my anger issues. Whoever that was that attacked Seth on RAW, it wasn't me. You have my word."
"Well that's great to hear, Kane," said Kathy C. "Before you go, though, we'd like to let you know that we actually found your missing complaints file. I guess it must have fallen behind a filing cabinet"
Both Kathys then lifted the 3-foot tall file and placed it on the conference table.
Kane began to sweat uncomfortably as he shifted in his seat.
"Let's see," said Kathy B. "Attempted vehicular manslaughter? Aggravated stalking? Hooking Shane McMahon's testicles to a car battery? Practicing dentistry without a license?! These are serious accusations, Kane!"
"Defiling a corpse?!" shrieked Kathy C. "We have to terminate you immediately!"
"No wait just a darn minute," said the Corporate Demon, banging his hand on the table. "Those allegations were proven to be completely fabricated. This was perpetrated by none other than Triple H. If he can pretend to have sexual relations with a mannequin on live television in an effort to frame me and still become the eventual head of the WWE, then I should have no issue staying on as Director of Operations!"
The Kathys excused themselves to discuss the matter in private. After a quick call to Triple H, Kane kept his job and received an increase in pay.
Later that night, Corporate Kane, satisfied with the results of the meeting, treated himself to a cheesesteak, curly fries, and a large cherry Coke. He curled up on his couch with his Lhasa Apso Torchy and his terrier mix Charcoal (Charlie for short) and enjoyed several episodes of Bones on Netflix.
"Keep climbing the ladder," said Kane to himself as he fell asleep, dreaming of a day when he becomes the Chairman of WWE.