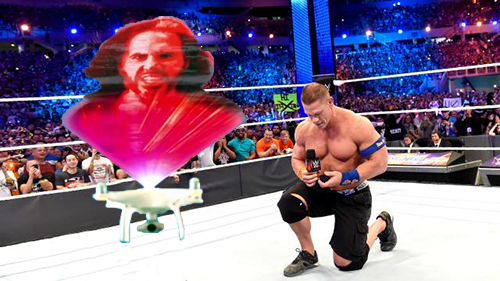 Orlando, FL – Following the explosive events of Wrestlemania 33, WWE Superstar John Cena made a shocking marriage proposal to none other than Matt Hardy.
At the conclusion of their match against The Miz and Maryse, Cena proposed to his longtime significant other Nikki Bella.
As the couple walked back up the entrance ramp, the Hardy Boyz theme music began to play. Matt Hardy emerge from the back to a standing ovation.
Caught up in the moment and in awe of the man before him, Cena removed the engagement from Nikki's hand, dropped to one knee, and presented it to Hardy.
"Delightful!" Hardy screamed as Cena slid the ring on his finger.
"You're the champion of my heart," said Cena, his voice cracking with emotion.
Angered, Nikki Bella began screaming and slapping Cena.
"Vanguard 1! Remove this interloper!" shouted Hardy.
A swarm of drones descended into the arena and swarmed Bella until she ran back stage.
"Now that that Jezebel has been deleted from your life, we shall ascend to the Hardy compound where we will fill our belly boxes with the finest pink Starbursts and Hawaiian Punch. To wedded bliss!"
Michael Cole dubbed it the greatest moment in sports entertainment history.