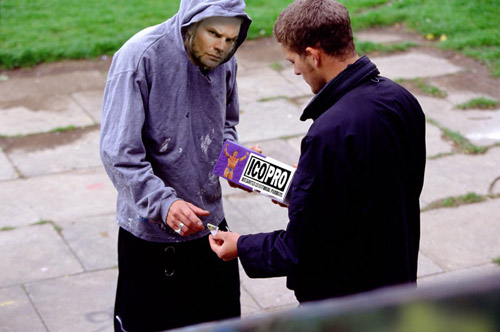 Charlotte, North Carolina – Current TNA champion Jeff Hardy was arrested Friday after being caught with 100 lbs of ICOPRO in the trunk of his car. Integrated Conditioning Program, or ICOPRO as it's known on the streets, is a bodybuilding supplement popular amongst the World Bodybuilding Federation in the early 1990's.
"We noticed that the suspect was traveling at a high rate of speed and decided to pull him over," said Sgt. Dallas Briggs. "This is a high trafficking area that extends all the way down to Orlando, Florida. Mr. Hardy was in a disheveled state, frequently making intense faces and grunting loudly. When asked if everything was alright, Mr. Hardy screamed, 'You've gotta want it!' before trying to deadlift his automobile. We tried to handcuff him, but that just made him rip off his shirt and do power squats. Then he started rambling on about something called 'Thermicforce'. He was clearly 'PRO'd out of his mind."
Dr. Fred Hatfield, former Director of Research and Development with ICOPRO and current assistant manager at a Foot Locker in Tampa, insisted that ICOPRO was a natural, healthy way to burn fat. "By following the Integrated Conditioning Program, you can increase your muscle mass and look great. I cannot take responsibility for an individual who abuses the patented system. Oh, and we only have a size 11 in black, is that OK?"
"ICOPRO goes by a lot of names: 'Burn', 'Titan Tower', 'Dutch Oven', 'McMahon's Mistake' and 'Gary Strydom'," said Sgt. Briggs. "'PROheads get all hopped up on the stuff and then hit the gym for four, five, sometimes even six hours. Then they go tanning to help them come down. Gotta be careful around them. You can usually tell when someone is on the stuff thanks to their dark golden-brown tan, bulging veins, and an inexplicable wailing guitar solo following them around."
When asked for a comment, WWE chairman and WBF founder Vince McMahon stated, "I thought I sold all that stuff to third-world countries as a tax right-off. It worked for all those XFL t-shirts. I guess that stuff stays good for years." Hardy's brother, former WWE and TNA star Matt refused to comment, instead taking to Youtube with a long, barely coherent speech about buying pants.
Upon hearing that Jeff Hardy was in no condition to work, TNA President Dixie Carter immediately booked him to headline a 30 minute match at the next pay-per-view.