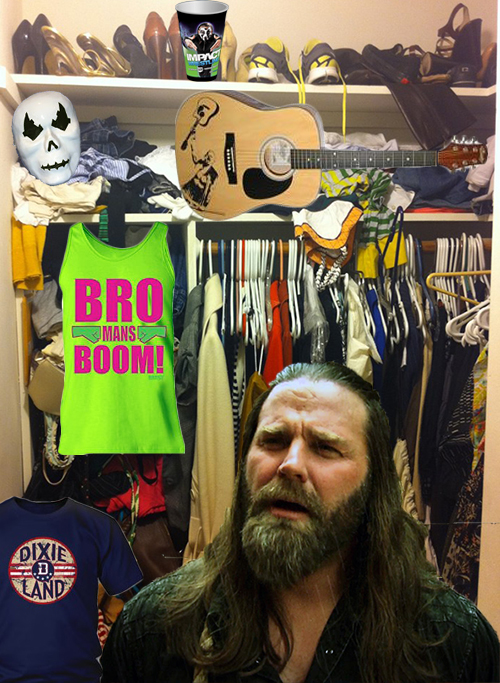 Nashville, TN – James Storm's return to TNA shocked the internet as many believed that his appearances at NXT events would lead to a full-time contract. Details have begun to emerge from Storm's new contract with TNA including the surprising clause that was the difference maker in his decision.
"It all comes down to numbers and being able to feed my family," said Storm. "TNA made me an offer I couldn't refuse. Sure the money is better and I get a bigger percentage from t-shirt sales, but there was something they offered me that Triple H just couldn't. I now have full privileges to grab whatever I want out of the TNA merch closet."
"Jimmy has been with us a long time and we feel that he deserves it," said Dixie Carter. "He's really earned our trust so now Jimmy can just go into the closet and grab whatever he wants. It's kind of like that show 'Supermarket Sweep'? You ever see that? Dang, that's a good show. Sometimes when I watch it I just jump up and down in front of the TV screaming my head off. How do that make it so exciting?"
"I've got my eye on that Jeff Jarret laser engraved guitar and a pair of The Beautiful People legwarmers," said Storm while peaking into the closet. "Oh, cool! A Manik mask. Gotta remember that one for Halloween!"
Carter further elaborated on the products in the closet saying, "RVD dog tags, Main Event Mafia trucker hats, Aces & Eights wallets, The Pope's sunglasses, Willow umbrellas. Dang, he's so lucky!" said Carter. "Jimmy really made the right decision coming back to TNA."
Carter then lit an entire box of her Dixie Land shirts in an effort to both heat and light the TNA offices.