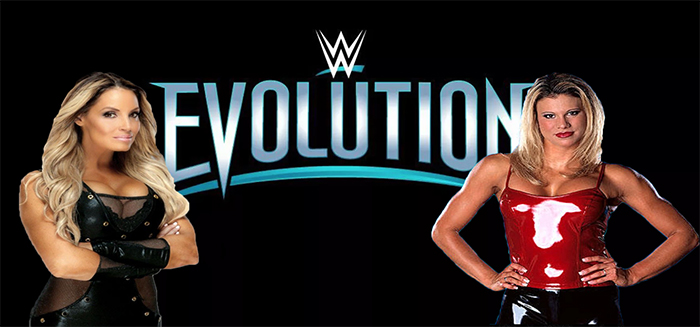 Miami, FL – The first match for WWE's new all-female event "Evolution" was announced this past weekend. In a press conference before Monday Night Raw, Stephanie McMahon declared that WWE Hall of Famer Trish Stratus would return to the ring to face former Diva Jackie Gayda.
"Evolution is the start of something special," said McMahon. "The WWE Universe deserves a memorable match of epic proportions. They deserve something that will help pad out the 6 hours that is now required for all WWE pay per views."
Simply referred to as "That Jackie Gayda Match", the previous meeting between the two has reached legendary status over the years. Gayda had recently won WWE's Tough Enough II contest when she fought Stratus live on Monday Night Raw. The match was a complete debacle with many missed spots and botches.
"It has been over 15 years since that fateful night," explained McMahon. "These two titans of the WWE have been kept apart since then, simmering and stewing. Now they are ready to bubble over in an explosion of punches, kicks, and second-rope bulldogs."
While many fans expected old stars to return and classic feuds to be rekindled, most did not expect this match.
"Man, I thought we'd maybe get Lita or Kelly Kelly or at least some Terri Runnels underboob. Not this," said Tobias Cohn.
"Dang it! I wanted Aksana to come back!" said Flint Kauer.
"I love it!" said former WWE Superstar Cameron. "Maybe we'll get Melina versus Alicia Fox too!"
"The WWE has gone to great lengths to make this happen. Both Trish and Jackie have promised to not train or even speak to each other before the match. We have even re-signed Christopher Nowinski and JBL so they can recreate their awkward chase around the ring. It will be a night to remember!"