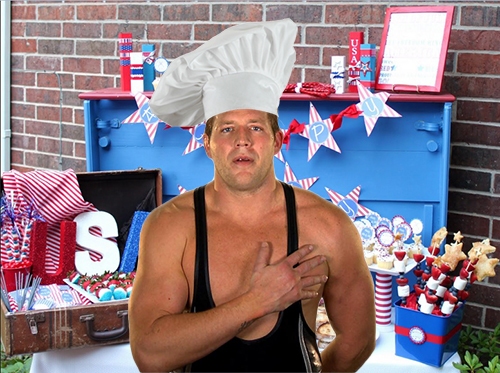 Perry, OK – WWE Superstar Jack Swagger celebrated the 4th of July with several other patriotic wrestlers at his annual 4th of July BBQ and Karaoke Contest.
Swagger's former manager Zeb Colter was the first to arrive. His motorized scooter was decorated with red, white, and blue streamers on the handle bars and the horn played Yankee Doodle.
"Son, this is going to be the best danged 4th of July ever. I can feel it in my bones," said Colter. "Now where do you want this macaroni salad I bought from the gas station?"
The Patriot appeared soon after, with a homemade cake, complete with white icing, fresh strawberries, and blueberries. "Don't worry, guys. Not a single, dirty, rotten, hockey puck-shooting Canadian came anywhere near this cake!" said The Patriot proudly.
"I've got the hot dogs and the buns!" said former Stars and Stripes tag team member Buff Bagwell.
The party kicked into high gear with the arrival of Sgt. Slaughter, Corporal Kirchner, Lex Luger, the U.S. Express, and former NXT tag team champions American Alpha. John Cena, who unfortunately could not make the event due to prior engagements in China, sent the group a nice video wishing them a happy holiday and/or birthday.
"Listen up, pukes!" shouted the newly arrived Sgt. Slaughter. "We are going to celebrate the birth of this great nation the way our founding fathers intended: Getting totally bombed and blowing stuff up!"
The rowdy group shot off various fireworks, some coming very close to hitting the Lex Express parked out front.
"Hey, it's Shawn Michaels!" said an inebriated Mr. America.
The excited group turned to see that it was not Michaels, but, in fact, Hacksaw Jim Duggan.
The fun came to an abrupt halt when current WWE Superstar and noted French-Canadian Kevin Owens appeared.
"Oh, you've got to be kidding me," said Owens, slamming the bag of ice he brought on to a table. "You told me this was a late Canada Day celebration. I brought my "Best Of Hockey Night In Canada" dvds and everything!"
Swagger quickly alleviated the situation, saying "Hey, Kevin. We've got some ice-cold Molson's for you. If you want, you can draw on Firebreaker Chip's face. He's passed out under the old oak tree."
"God bless America!" shouted Owens as he grabbed a permanent marker.