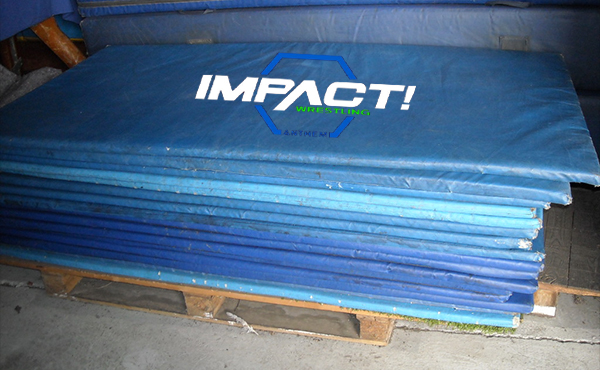 Orlando, FL – Impact Wrestling shocked both fans and wrestlers this week by completely doing away with all sides of their wrestling ring.
Initially, the company announced they were removing their iconic six-sided ring for a more traditional four-sided ring, but a second change was made late Friday night. In place of the traditional ropes, turnbuckles, and mat, wrestlers will now compete on pile of gym mats donated from Boone High School.
Impact officials have denied that removing all sides of the ring was a cost-cutting measure.
"Impact Wrestling is doing well financially. We're just making this change to really create a new level of excitement," said Impact Wrestling Executive Vice President Don Callis as he stuffed ketchup packets from catering into his pockets.
"The fans demand in-your-face action and by removing all those unnecessary ropes and stuff, we're going to give it to them," said fellow Impact Wrestling Executive Vice President Scott D'Amore before punching a hole in a nearby wall and stripping out all the copper wiring.
Some wrestlers expressed concern with the sudden change.
"I can only do like two moves now," complained Matt Sydal.
"Can't we, like, get ringworm or something from using these mats? Shouldn't we wash them?" asked Eddie Edwards.
"There's very little meat in these gym mats," said Abyss, his cheeks stuffed with mat.
"Stop calling me Lacey Von Erich," said Laurel Van Ness.
Anthem Sports & Entertainment president Leonard Asper attempted to allay any of the wrestlers concerns, saying "We here at Anthem Sports TNA Global Impact Banana Stand care deeply for the safety of all our employees and I assure you that we are fiscally solvent for at least the next two weeks."