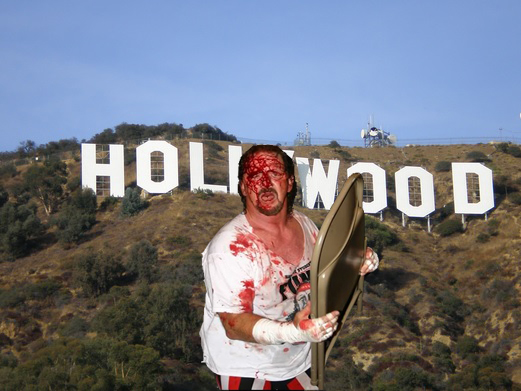 Hollywood, CA – Wrestling legend Terry Funk has signed on to appear in the remake of Roadhouse starring MMA star Rhonda Rousey.
Funk, who appeared in the original 1989 cult classic starring Patrick Swayze, arrived on set early yesterday morning, despite the movie not being in production until 2016. After body-slamming the studio security guard through a catering table, Funk interrupted the filming of Fifty Shades Darker to declare his intentions.
"I'm here to take on that low-down, no-good, son of a bitch Dalton once and for all," said a blood-soaked Funk directly into the camera. "The first round may have gone to him, but I'm ready to show him why Terry Funk is the most dangerous man in the world!"
The 71 year-old then grabbed a whip from the set and began to crack it, creating a vicious exclamation point to his promo.
"Dalton!" screamed Funk. "You may have grown your hair out, dyed it blond, and become a pretty lady, but I'll still kick your ass from here to Albuquerque! I heard you've got balls big enough to come in a dump truck, but you don't look like much to me! The Funker will see you and that coward Cactus Jack at the Double Deuce!"
In order to placate Funk, frightened studio executives have agreed to let Funk star in another remake of a Patrick Swayze movie. Filming for the remake "Dirty Dancing" starring Terry Funk starts in 2017.