Yesterday, the visiting San Francisco 49ers recruited wrestling legend Ric Flair to speak to the team the day before their NFC wild-card game versus the Green Bay Packers, prompting San Francisco right tackle Anthony Davis to tweet his appreciation for the Nature Boy, while labeling Green Bay a "s*** hole."
Outraged by the disrespect for the Packers' home, Green Bay head coach Mike McCarthy flew in another famous figure from the wrestling world to even the score. "Dr. D" David Schultz delivered a scathing promo this morning on Ric Flair, the 49ers, and San Francisco in general.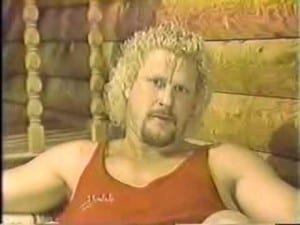 "Last time I was in San Francisco, I went downtown looking for a woman! I couldn't find a woman! I found a lot of men that looked like women!" Upon hearing this, one FOX correspondent burst in to laughter, which he tried in vain to repress on camera. Still, Schultz continued his tirade:
"Now you, Ric Flair! You belong in San Francisco. That's your kind of people, that's your kind of place, 'cause you've never had a woman, baby!"
Schultz was unavailable for comment after the speech, although one reporter was slapped in the ears for questioning him about whether his animosity toward Flair and the 49ers was fake.